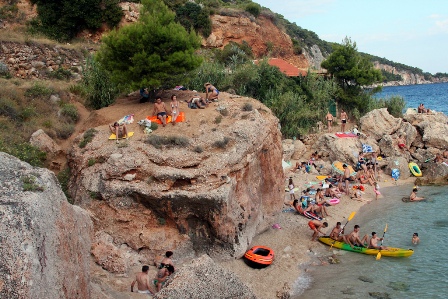 Holidays in nature - camping Hvar island
Hvar Island boasts a 130-year history of tourism, otherwise known as the area with highest number of sunny days in whole Croatia. You can reach the island Hvar by ferry from Split, which takes you to the port of Stari Grad. The second ferry is running on the route Drvenik - Sucuraj.
On the island you wil find at least 10 camps, which are very different. The best camping is probably the camp Vira, which is from the town of Hvar is only 4 km.
This camp was burned down years ago but was then totally reorganized. In the camp are well organized campsites, three modern sanitary blocks with hot water prepared by the solar cells, the camp has has also shop, restaurant and playground for children. Thus, the camp Vira is one of the two camps in Central Dalmatia with four stars.
Camping places in Hvar island
In close proximity of the town of Jelsa are located four camps: Grebisce, Holiday, Mina and Nudist.
The last one was intended only for nudists. All camps are situated along the sea and can accommodate from 200 to 450 guests.
Camp Grebisce is slightly better than the rest. Guests could be also accommodate into five stone bungalows. Camping sites have electricity and water, and some are even equipped with kitchen and private bathroom. In the nearness of the Stari Grad town is a part of the hotel complex where is located camp Jurjevac. Only four kilometres east of Sucuraj town lies Mlaska camp, which is partly aimed for the naturists. In this camp offer the possibility to rent a wooden bungalows.
Camping



If you are looking for camping on the island of Hvar, where you'll spend the days with the locals, with them catch fish and in the evenings sing Dalmatian songs, then go to the extreme south of the island, to the town of Ivan Dolac.
From there to the town of Sveta Nedelja (Holy Sunday) is a number of small private camps, of which could be mentioned the camp Paklina and Lili.