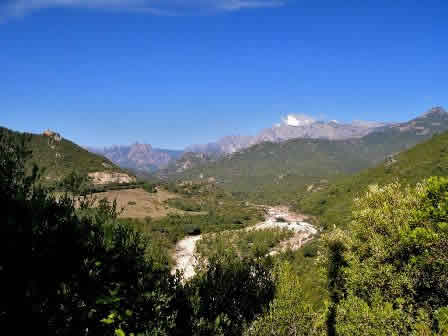 Solenzara is a seaside town which is about 10 km avay from Porto Vechio. Turn left to the Solenzara river and continue route through the greenery of forests. If you have a time stay at the river Solenzara and refresh your self. The road climbing and winding to the pass named Col de Larone. From the pass you can enjoy view to the pink granit mountain and further there to Bavella mountain range.
After our discovering of the town of Porto Vecchio - Corsica and a beautiful beaches around it, we decided for a trip to the basin of the river Solenzara, crosing Col de Bavella and return through the mountain village of Zonza, near Lake Ospedale and back to the town of Porto Vecchio. We had our own transportation, but we saw in Porto Vecchio offers of guided tours to the region of Bavella.
Col de Bavella
From Col de Larone the road desced and winding through the forest. There on the road are many cyclists who tests their legs because there is another pass - 1220 m high Col de Bavella. We did not take our bicycles because we wanted to climb to one of Bavella peaks.
The pass is very known bacause there are many walks from Col de Bavella to the Bavella mountain. One of the most known route GR20 also crosses Col de Bavella. Circuit walk - 3 to 4 houres , from Col de Bavella to the Trou de la Bombe is very popular. We have chosen the walk close the Punta Bigornu. From the top we enjoyed magnificent view to the sea and mountain of Bavella.
The round trip you can finish with visitnig of Lake Ospedale which could be t he next goal. Here you can peacefully enjoy a pleasant freshness and rest before the final descent to the coast and hot beaches
Zonza village
Zonza Village is located about 30 minutes from Col de Bavella and about 40 minuttes to Porto Vecchio. In summer time, the life in the village takes quite lively. Restaurants and bars are full of h visitors as well as hikers, who choosen the village as a starting point to numerous of mountain tours.
In the middle of the village you can visit the stone church from the 19th century. In general, most of houses are made from stone which gives gives an unique look to mountain village of Zonza. There is also a tourist bureau, where you can get useful information or tips.