text by
Emma Healey
Ofir on The Costa Verde - Portugal Travel Guide
The quiet beach resort of Ofir is located about 22 miles from Oporto on Portugal's Costa Verde (Green Coast). The Costa Verde lies in the north-west of Portugal where vineyards producing famous Portuguese wines including Vinho Verde and Rose, rivers and beautiful green countryside add to the areas unspoilt charm. Not only does the region have some excellent countryside to explore, it also offers a magnificent coastline with sweeping bays where visitors can relax on their last minute holidays to Portugal.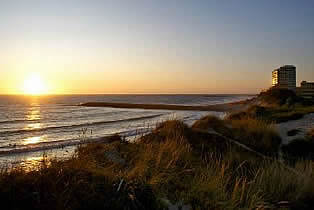 Golden beach of Montechoro resort
Ofir is one of the best beach resorts on the Costa Verde, offering good hotels, a beautiful beach and wonderful scenery. The resort is surrounded by pine forests and the beach is edged with sand dunes.

The long wide sandy beach is lapped by the Atlantic and the warm waters are very popular with windsurfers. Other water sports on offer in Ofir include snorkelling, surfing, sea kayaking, sailing and fishing. There are so many secluded bays and coves along the coastline which are perfect for relaxing in the sun that you will be spoilt for choice. A boat trip is an excellent way to see the dramatic Costa Verde coastline.

Although Ofir has some restaurants and bars there is a wider choice at Fao which is just a couple of miles inland from the resort. Dating back to Roman times, Fao sits at the mouth of the River Cavado and is a great place for fishing and canoeing. Nearby on the river bank is the old fishing town of Esposende where you can take a leisurely stroll and discover the quaint town squares and historic old buildings.

The best way to explore the Costa Verde is by car. The amazing scenery is both tranquil and beautiful with charming hillside villages, castles and churches just waiting to be explored. Another way to explore the surrounding countryside is by taking a guided tour on bicycle or horse back. A trip to the volcanic Arcuentu Mountain, where wild cats and deer roam, will give you amazing views from its summit and great photographic opportunities. Take a 30 minute drive from Ofir to Portugal's second largest city Oporto for a day trip not to be missed on your family holidays to Ofir. Famous for being the home of Port Wine, Oporto is a historical city with great sightseeing and shopping opportunities, restaurants, bars and plenty of nightlife along the city's riverfront. The gothic Church of St Francis and the Palacio da Bolsa are just two of Oprto's historic buildings worthy of a visit. An opportunity not to be missed is a guided tour of Oporto's wine cellars, including wine tasting sessions in the cellars.
Ofir climate and temperature
Ofir enjoys hot summers but not as hot as the south of Portugal. Temperatures average about 25C during the summer with low humidity levels which make very pleasant weather conditions. June, July and August have 10 hours of sunshine a day with the waters of the Atlantic Ocean hovering around 9C.
Even summer evenings enjoy temperatures of 15C, ideal for dining at in the restaurants and having a drink or two at the bars.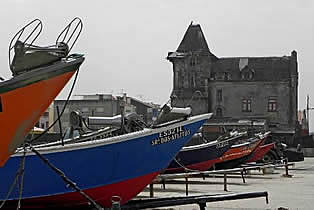 Most of the rain falls during the spring, autumn and winter months when temperatures hover around 15C.
Emma Healey is the co-founder and owner of holidayholiday.co.uk, specialists in holiday packages and last minute holidays to worldwide destination. Thanks for taking the time to read my article and be sure to watch out for more of my articles as im writing many travel blogs and have some great topics coming soon.
Article Source: http://EzineArticles.com/?expert=Emma_Healey http://EzineArticles.com/?Ofir-on-The-Costa-Verde---Portugal-Travel-Guide&id=6516629
Pictures by mrconguito, aamaianos, placeboe