HikeNow
Dubrovnik, old town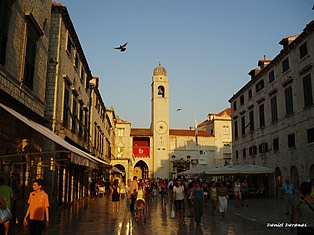 Old city of Dubrovnik
The most interesting and the most attractive part of Dubrovnik is the Old City part. It is best to sightsee on foot because it is located on a small city area. You will not only feel the special mystic atmosphere rising from the ancient stone walls but also see the most interesting sights while walking through this romantic, ancient city. Medieval monuments are creating the perfect illusion of this protected city from past times, and the whole city center is surrounded by medieval historical ramparts. Below the amazing forts that overlooks the gates there are more city entrances. One entrance is when you go throught the old town through Pile City Gate, this is the main town entrance.

Stroll to the street of Stradun
Bokar from the south and Minčeta from the north are two forts that are overlooking those main city gates. Minčeta Fort is known to be one of the most unique and amazing forts in the world. This Fort offers one of the most beautiful views of the entire town. The other Fort Bokar was built to defent the town directly from the sea.
We cant forget Stradun, one of the most beloved and famous Dubrovnik town street. On Stradun you can see many galleries, bars, coffe shops, restaurants and souvenir shops. Stradun street never sleeps. There are also many street artists and other entertainers especially in summer months. A lovely square finishes Stradun street, this part is surrounded with one of the most known historical monuments of Dubrovnik. There is the Church of St. Blaise, the Rector's Palace, the Orlando's Column, the bell towers, the Sponza Palace and the City Cathedral. This amazing monuments date in early renaissance and in late medieval era.
What to do in Dubrovnik
Numerous galleries and museums offer every visitor a splendid time in this historical city. You can enjoy in the maze of narrow streets and find out more about other monuments and sights. In the galleries you ccan find contemporary art and also one of the finest exhibits of history of Dubrovnik. When you get tired of all the histroy and arts you can just soak up the unique atmosphere, watch the vibe of everyday life in Dubrovnik or just enjoy in the view in a nice restaurant or a bar.
There are many great restaurants with amazing Mediterranean cuisine, and all the aromas are inviting guests throughout the narrow town streets in variety of taverns and different restaurants to taste some of the native grilled fish, home made olive oil, fresh fruits and vegetables and home made wine. The Old Town part of Dubrovnik doesent lose its energy after the sunset, it is just the opposite. In the evenings the streets of Dubrovnik finally open. You can watch theater and musical performances in different city parts, just in the middle of city squares.