Pictures by
HikeNow,
An Overview Of Some Of The Best Maldives ResortsRobert Fogarty
Maldives resort
There are various resorts on the Maldives that will suit any taste and budget. If you are planning a trip to Maldives, feel free to read this article and you will know a lot about Maldives resorts and which ones are more suitable for you.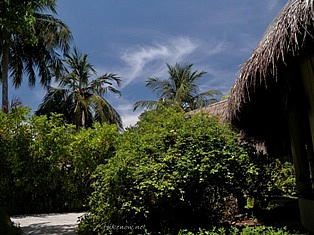 If you would like to relax and rejuvenate while treating yourself to some spa procedures, then you should not look any further than Angsana. This resort is located in the Ihuru islands and is not far from the capital of Maldives. This resort is quite small, consisting of only 45 villas, but all of them have pleasant verandas, private gardens and, what is more important, are located along the waterfront. Angsana resort offers many different spa procedures like massages, facials, etc., as well as diving and snorkeling opportunities.
The next Maldives resort is Asdu Sun Island. This resort consists of 30 rooms and is located in the Kaafu Atoll. It is not the most luxurious place, but it has to offer a wide range of recreational activities like canoeing, diving, snorkeling, fishing and others. Asdu Sun Island also has a library, where visitors can take out books and read them on the beach, an Internet caffe to keep in touch with your friends while on vacation and a video hall to watch some movie when the weather is not allowing for other outdoor activities.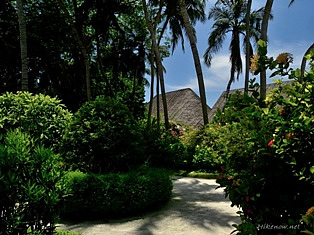 Bandos Resort
Another very popular Maldives resort is the Bandos resort. It consists of 225 standard and deluxe rooms as well as Jacuzzi beach villas, garden villas and water villas to choose from. Bandos was opened in 1972 and since that time it has grown and became one of the largest Maldives resorts.
It has to offer tennis courts, five restaurants, a coffee shop, a disco and a bar, a sauna and a gym, a billiards room, a few swimming pools, a beauty salon and even a diving school. If you would like to get some luxury, then Banyan Tree Maldives resort is a perfect place to go. This resort offers a wide variety of rooms from standard to ocean view villas. It offers four restaurants, an exclusive spa salon, excellent recreation facilities and deep sea fishing.
Set in the North Atoll, Club Med Farukolhufushi is the island resort which is famous for its scuba diving and water sports. It is a 4-star resort that has to offer a wide range of recreational facilities and 150 guestrooms. There are windsurfing and sailing schools available if you would like to master any one of these fantastic activities. Besides that, you can also go in for some kayaking, soccer, beach volley or a water-polo there. The resort has a spa salon, a swimming pool, a TV and billiards room, arts and crafts workshop.
Resorts of Maldives
This is only a small portion of the holiday resorts that are available on Maldives. Most of them are mid to high end but there are a few affordable Maldives resorts that will fit even the tightest budget. For more information, please visit: Maldives resorts [http://www.maldivedigest.com/maldives_holidays.php]. Article Source: http://EzineArticles.com/?expert=Robert_Fogarty
http://EzineArticles.com/?An-Overview-Of-Some-Of-The-Best-Maldives-Resorts&id=5804501