Pictures by
HikeNow,
Maldives the Tropical Heaven by Sanyukta Jain
Maldives resort
Maldives is a popular travel destination where numerous tourists from all over the world come to have a great time. The place has so many things to offer. The serene beauty of the Maldives is refreshing and breathtaking for those looking for an amazing experience from their holiday. From electrifying water sports to walking on gorgeous shore lines, Maldives is a destination which has something for everyone.
Maldives is a group of islands located on the equator in the Indian Ocean south of the Indian subcontinent. It is the perfect recluse for those who want to get away from the annoying humdrum of every day life. Warm seas, beautiful beaches, breathtaking scenery and lush green vegetation make Maldives an island paradise. Maldives has a magical eternal appeal. You get the perfect Robinson Crusoe experience here.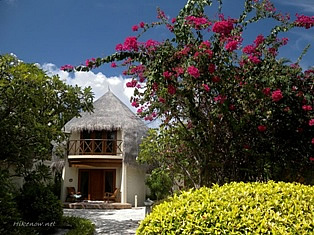 Maldives group of Islands
Capital city of the Maldives, Male is a remarkable tourist attraction and is situated near to the airport. Often, tourists and visitors holidaying in the Maldives travel to Male to shop for local handicrafts or visit the magnificent national museum that holds a collection of beautiful artifacts, including Palanquins and Sultanese thrones and various mosques.
When visiting Maldives, you will be introduced to the natural Maldives vista that is exceptionally charming and overwhelmingly beautiful. The fringed islands actually measure a few miles across the white sandy coastline and most Maldives hotels and resorts are found along the beaches. Another factor that makes Maldives a paradise is the beach resorts that meet and satisfy international hygienic standards, hospitality and wonderful accommodation. You will enjoy all-inclusive packages in these resorts and you can get a resort of your choice and enjoy premium comfort and service while in Maldives.
Holidays destination of Maldives
Maldives is a perfect holiday destination for nature lovers. Travellers can simply lie down on the fine warm sand and watch the blue seas for hours on end. The coconut trees laden beaches are so picturesque that you would not want to go away from here. It is not just nature lovers who can enjoy a vacation at Maldives. Maldives also offers all sorts of water sports like snorkeling, water skiing, wind surfing, parasailing, under water diving, sailing and much more for sports and adventure lovers.
Fishing is the part of mainstream life of Maldivians. Their pleasures and dejections are intertwined with the catch they have got. In Maldives you can get a chance to partake in the small happiness of Maldivians connected with fishing. You can go for a night reef fishing trip. Most of the resorts offer this. The boat leaves before sunset to find a good spot near a reef. The boat crew will tutor on how to use the lines, hooks and sinkers. Grey heads testify that one hour is enough to catch plenty. Then it is the turn to visit deserted islands to eat and celebrate. Virgin island is not difficult to find with only few hundred utilized out of more than thousand islands. While the fish gets prepared you can gradually experience and explore the untouched island. You can feel the softness of sand which is untouched by human foot for a long time. You can internalize the undisturbed sounds made by nature and have a nice time in this tropical heaven. Visit website to book Maldives packages Maldives honeymoon package and Maldives honeymoon packages from India