Pictures by
HikeNow,
Maldives - Bandos Island Resort By Jon Jackson
The Maldivian island resort of Bandos had an overhaul in 2005 which added some accommodation and an extension of its facilities. The look and feel of the resort provides a good balance between casual and formal styles.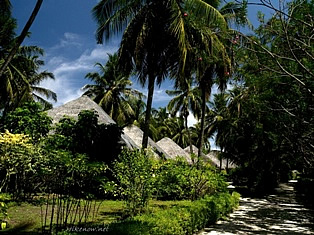 The reception has a wealth of modern conveniences such as an internet hot spot, conference hall, plasma TV etc. but this hasn't affected the tropical beauty of the island which hasn't been compromised at all, with tranquil accommodation and private beach areas shaded by tall palms and other tropical vegetation.
This resort has made a lot of effort to accommodate families, with purpose-built childcare facility complete with female staff on hand to look after the children and provide babysitting in the evenings if required. Some of the rooms in the standard and junior class also have an interconnecting door for families who need to split between several rooms.
The resort is popular with families, so children who are not quite old enough to take part in some of the older activities can probably find other children their age to play with. The main bar and coffee shop are well-placed near the water, and the bar is often a hive of activity until the early hours of the morning.
The restaurants, while not particularly inspiring in their decor, do serve a range of quality dishes. Visitors with young children should be aware that the lagoon tends to deepen quite quickly.
Activities in Bandos Island
Bandos is without doubt one of the main dive centers in the Maldives, not least since it has one of the few decompression chambers in the country. It offers an extensive range of courses from absolute beginner open water courses to expert re-breather courses. The snorkeling is very good and you can snorkel the whole way around the island. The dive center here is both a Platinum Facility of the International Association of Nitrox and Technical Divers and a PADI Gold Palm Resort.

There are 48 Junior suites arranged in groups with a shared garden. These are ornately decorated, with a yellow and ochre colour scheme, solid wood four-poster bed and a sense of style that make them very accommodating. The only main downside, as far as we could perceive, is the beach in this section of the resort is almost completely submerged at high tide, but this is a small matter for most I should think.
Accommodations in Bandos resort
There are 84 standard rooms which are adjacent to the beach and an additional 19 that are not beach-fronted. These alternate between double and twin bed layout to provide for families again.They are pleasantly furnished with tiled floors and balconies. You might consider the bathrooms to be on the slightly smaller side. Some of these rooms face westwards into the sunset and are also blessed with one of the best sections of beach.
The 48 circular-shaped Beach villas are the latest accommodation to be added to the resort. Each is two-storey, with upstairs bedroom and sea balcony. These rooms have been carefully and tastefully done to provide that superior feel.The bathrooms are half inside and half outside the villa, and are complete with thatched jacuzzi. The 24 Garden villas are mainly based alongside the relatively new swimming pool, which will suit those who like to lounge by the pool all day. Although not as large as the Junior suites they are cosy in their feel and decor and are only a short walk to the beach.
Keep up to date with whats going on at the Bandos Island Resort [http://www.maldivesholidays.eu/bandos-island-resort/] at the Maldives Holidays [http://www.maldivesholidays.eu/] Guide. Article Source: http://EzineArticles.com/?expert=Jon_Jackson http://EzineArticles.com/?Maldives---Bandos-Island-Resort&id=2482730