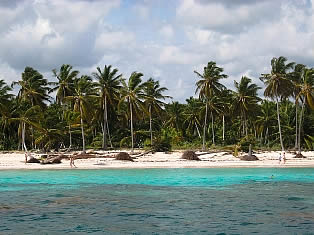 The art in Dominican after 1865
The art in Dominican Republic did develop after 1865 when autonomy was declared. In the nineteenth century European styles started to study Dominican subjects of popular mythology, African heritage, religion and folktales which create a domestic way of art.
In the season 1890 the gallery named Salon Artistico in Santo Domingo was the first large exhibition location of Dominican art . The display was consisted of portraits, landscapes, and copies of famous European works.
The first Dominican artist was actually a caricaturist and printmaker Domingo Echavarría. Realism and Neo-Impressionism way of art became dominant between the 1920 and 1940. The significant and popular artists of that era were Yoryi Morel, Jaime Colsón, and Celeste Woss y Gil. The Morel's way with vibrant watercolors were to become a some sort of symbolic representation of Dominican art. Gil on the other hand, presented the Modernist treatment of the naked to Dominican Republic art of painting. She took attention from critics at home and abroad when she made the first paintings of nude black and mulatto Dominican women.
Art in time of Rafael Trujillo - Dominican Republic
The time of corruption and authoritarian despotism of Rafael Trujillo from 1930 to 1961, had a dramatic and permanent effect to the past of Dominican Republic art. The Trujillo administration was keen to gain a helpful public image of more and more terrible criminal activity against his own citizens. Because of that in the year 1942 they founding the National School of Fine Arts and the National Biennial. Trujillo provided shortly as well asylum to Spanish Civil War refugees. Recognized artists gave to young Dominican artists access to a more worldwide perspective.
Dominican artists have a number of the very fine arts that cannot be seen in tourist galleries. Few of the artists works are not produced in mass to be offered to the broad tourists. They symbolize true Dominican artists in all feels, distincts and contemporary.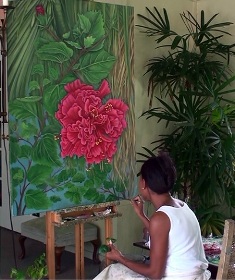 Todays Art in Dominican Republic
Juan Medina is one of the fine artists that become from Dominican Republic. Juan has a studio located on Calle Mercedes in the Colonial Zone. His atelier is not open to the general tourists. It is open just with appointment call from art collectors who are interested in acquiring his work. So if you are a true art fan and would like to view his work please get in touch with him.
Another of nowdays painters is Olivia Peguero which is recognized by landscape and nature art.
She spend most of her time to paint in the exotic country side and work in her charity, The Peguero Foundation. Mrs. Peguero is the founder of the Peguero Arte Libros Foundations and the Art Books for Education Project that focuses on art education for young Dominican children in rural areas. In 2007, the case was presented that even today, many Dominican children in rural areas are not exposed to and do not have the opportunity to learn fine arts such as painting, sculpture, poetry and story writing. And for a country so rich in the music and dance arts to not have an emphasis in these areas was a loss for every child.
Carlos A. Parra also known as Kabubi is an Dominican artist who like to paint from childhood. Later he visit different art scools, at last the Dominico Americano Art school. The passion of Carlos Parra is his painting, and even when he turns to another styles of art, painting is forever the most important thing. His earlier fish art motives are beautifying a bunch of houses on the island and mainland Spain and over time his paintings have further and further influenced by the island.