HikeNow
Where is Korcula island, Croatia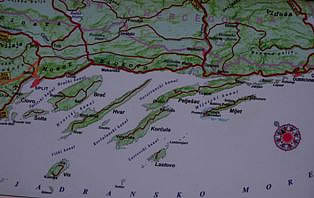 Korcula Island and its beauty
Korcula island is an amazing island that will impress you with its gastronomy specialities, natural beauties and its cultural world. Every place on the island is interesting and unique in its own way. Korcula island offers visitors different kind of experience of vacations.
From those who like romantic holidays they can choose between calm areas of the island to the ones who prefer active vacation with hiking, boat rental, cycling or diving. All of this combinations that suit different personalities. You will experience different experience every day.

How to reach Korcula island, Croatia
Island is located around 20 km away from the mainland between Ston on Peljesac peninsula and Makarska. It belongs to south Dalmatian islands and positioned parallel with the mainland. The island measure about 48km (long) and five to seven km (wide). You can departure from Dubrovnik or Split by ferry boat. There is also a short ferry connection (it takes about 20 minutes)from a town Orebic on Peljesac peninsula to the Korcula town.
The island is known to be one of the greenest islands in the Adriatic Sea. It is rich with olive groves and vineyards. Quiet coves and small beaches are formed in southern coast of the island.
The The biggest town of Korcula has the same name. The main town Korcula is a typical market town with its thick walls that reminds us on Dubrovnik. Some say that Marco Polo was born in Korcula, Korcula hosts also medieval battles that they show in summer as one of the cultural traditions. The island has many museums. All around the island there are tons of little apartments and boutique hotels and other places for accommodation for all tastes. Small beaches and over 200 coves are found more on the south side of the island. On Korcula live right now 3000 people.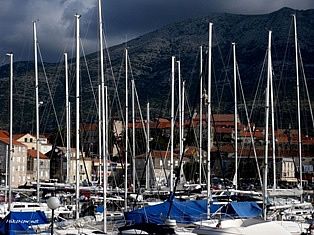 One of the known little villages in Korcula is Lumbarda. Its a small fisherman's village, not far away from the main town of Korcula. They produce unique white whine called 'grk' in Lumbarda has one of the best vineyards. And it is also known by its beautiful sandy beaches, the most famous beaches are Bilin Zal and Vela Przina.
It's a lovely place for chilled afternoon coffes and ice creams in many of their small bars. Another known place in Korcula is Vela luka this town lies on the west of the island. It is a big industrial and agricultural place that is placed in the large bay.
Town is known for olive oil and sardine factory. There are several interesting places to visit in Vela luka: Islands of Osja kand Proizd and Tri Porti bays. We cant forget to mention Blato as one of the biggest places on Korcula. It is also agricultural and industrial town that lies in the middle of the island. Known is for sword dance Kumpanjija and olive oil production.
Ferry to Korcula island
Arrival by Car: If you are coming by car take a ferry boat
Ferry: Split town - Vela Luka (Korcula island) - Ubli (Lastovo island) - 3 houres
Ferry: Drvenik (mainland) - Korcula town (Korcula island) two and a half houres
Ferry: Domince, Korcula town (Korcula island) - Orebic (mainland Peljesac peninsula) 20 minutes
Ferry: Rijeka - Split town - Stari Grad (Hvar island) Korcula town (Korcula island) - Dubrovnik - only in summer 18houres and 30 minutes
Catamaran: Vela Luka (Korcula island) - Hvar (Hvar island) - Split town
Catamaran: Vela Luka (Korcula island) - Ubli (Lastovo island)
Catamaran Split Hvar(Hvar island) - Ubli (Lastovo island) - Vela Luka (Korcula island)