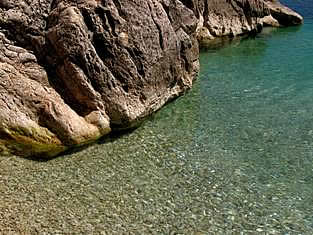 The coastal line of the Adriatic sea which links towns near coast from Umag to Rovinj, Pula, Sibenik, Zadar, Split and Dubrovnik strech about 500 sea miles.
It's amazing that the eastern Adriatic coast is indented by more than 1000 islands, of which only around sixty are actually inhabited.
They offer a wide variety of places and styles: small fishing villages, ancient Mediaeval or modern towns, sophisticated tourist resorts with elegant rocky and sandy seafronts, villas and palaces. The attractive route is recomeded as well for traveller as tourists and sailors. Of course you have to take a time you need.
Climate of Croatia coast
The line of coast, which encloses some of the most dramatic landscape, has a pleasant Mediterranean climate with a high number of sunny days. The summers are dry and hot, the winters milddamp and short. Thanks to the mountain chain (Velebit and Dinar mountain) above the coast, cold winds from north kept away and guarantees the towns on the coast an early spring and later autumn.
In January the temperature is between 6° C and 11° C. It is better to wear a hat and scarf at that period, while during the rest of the year spring/summer clothing is advisable. During the month of August the temperature varies between 21° C and 30° C, but the northwest wind blowing from the coast to the sea cools it down pleasantly. Apart from the period between January and March, when the sea temperature is about 12 ° C, for the remaining months the average temerature is 25 ° C .
Croatian coast
The Croatian coast also offers countless possibilities for entertainment. In Rovinj you will immediately be struck by the tranquil atmosphere and you cannot leave the city without having walked down the steep paved
streets on the little hill with the historic town centre and the Basilica of Sv. Euphemija or admiring the panorama from high up. When you come ashore in Zadar, you will experience the hospitality of the inhabitants when they welcome you with a glass of Maraschino, the typical liquor of Zadar. Here you can either relax on the beach or visit the ancient city, walking down the white stone streets under the city walls which go around the bay. In Sibenik you can not only admire the beauty of the historic city centre but can also enjoy excellent thalasso-therapy treatment in the healthx
resorts that offer numerous indoor swimming pools with both fresh and salt water, where you can also have underwater massages, saunas, therapeutic face and body mud treatments. Once you land in Split, a visit to the Diocletian Palace, at the crossroads of the local city, will be a fascinating combination of past and present: the Peristyle, once an austere imperial area and later a Mediaeval square, today it houses homes, shops, restaurants and cafés, where one can enjoy the city's enchanting atmosphere to the utmost, a mixture of ancient and modern.