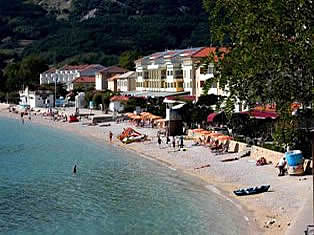 Discovering small town of Baska - Krk Island
The hamlet of Baska, considered one of the most fine-looking seaside towns due to its architecture. It is the second largest town on the Kvarner island of Krk. The island and towns of the island are linked to the mainland at Kraljevica by the Krcki viaduct. The town of Baska is located on the south-eastern coast of the island, 19 km from the town of Krk in the Baska gulf. A holidays complex has been made next to the old town and it is without difficulty accessible from the town of Krk,
Stay in Baska - Krk Island
The offered apartments rentals are in the settlement Baska, and port on the south-eastern coast of the island of Krk. Baska is well-known vacation centre on the island Krk. Tourism has began in 1904 and the first hotel was opened in 1906.
The island Krk is linked by an attractive bridge with the mainland and it is reachable by automobile in a few hours from the Central European cities. Baska is situated in a gulf, surrounded with olive gardens, wine gardens, figs and brooms. The picturesque valley, the rich cultural traditions and the beautiful 2 kilometres stretched beach, contribute to the extraordinary charm of this place.
Holidays on pebble town beach of Baska
Baska is interesting mainly because of its characteristic architecture, many national and historic monuments and nearby outing paths. The settlement has a typically Mediterranean spirit, with stone buildings and small streets. Tourism started developing at the beginning of the 20th century. Baska holds a large amount of historic sites (old houses, palaces and sacral cultural monuments).
One of the most famous things in Baska is their two kilometres stretched pebble beach , which is also one of the most brilliant beaches on the Adriatic coastline. Baška is one of the most desirable spots on the Croatian Adriatic coast because of long practice in tourism, many coves and beaches, rich cultural heritage and a diverse tourism. St. Lucy's Church and Jurandvor are located very close to Baska. Bascanska ploca is in the St. Lucy's Church and is one of the most important Croatian cultural typical monuments with an lettering written in the Glagolitic alphabet dating from 1100.