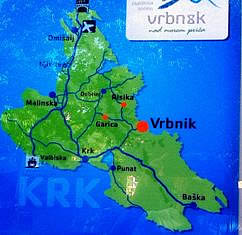 Krk town is a capital of Krk Island
Krk Citadel is the admin, commerce and educational center of the island population. Since tourism is concerned, Krk is however a pretty and picturesque summer vacations spot which above all offers the feeling of style, and tradition and heritage.
The most beautiful city of Krk is a caption written on a signboard from the ancient period, marking this town as heart of the island and the major city. The visitors and travelers will discover the city because of its important historical monuments and valuable culture. Travellers can easily loose their way in one of Krk's stone-paved streets, but you can also easily find the right way back to Vela placa, which is the main square of the citadel of Krk. The square has got a fine-looking Renaissance well. A view of Frankopanski kastel and Kamplin in which are theater perfomances and many shows held at the time of the summer.
Strolling along the streets of fortified citadel
Krk City is a fortified town still today, with walls all along its entire length. The town is entered through 4 entrances and there are tiny and big streets.
The most important sites in the town is certainly the sacred site of three church buildings with the cathedral which was built over the leftovers of Roman thermae from the 5th century and Franciscan and Benedictine monastery with church buildings from 12th and 13th century, archaeological locality Volsonis below the major city square and your personal exploration of details which will make Krk City the lovely place you've been searching for.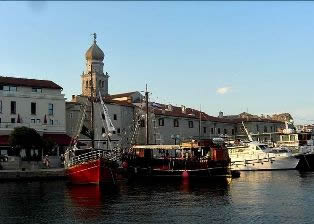 From Island of Krk you will be able to go to the island destinations around Krk Island via ferryboat ships.
There are island Cres, Mali Losinj, Rab or you can drive by car in direction North - West to the Venice, Italy in about 4 hours. Well known national park Plitvice Lakes is about two to 3 hours South/East. Krk has maintained to preserve its heritage and presents it bravely today. In the summer season you will find little ships docked along the waterfront. You can take a one day trips around the island.
The favorites trip destinations are: island of Prvic as a specific botanical and zoological reservation, the island of Goli, a former politico gulag for many years and the island of Rab, with its holiday sights.
Holidays on beaches of Krk town
Island Krk have all the variety of beaches that is possible to find in Croatia. Krk town beaches go from characteristic terraces to stones beaches to rocks and cliffs; these types of beaches are close the town and provides a minimum of services like showers, refreshment booths, wcs.. As there are only one or two hotels in Krk, the most preferred sort of accommodation is a private housing. You will see more or less all home promote private logging in one or additional its apartments, from which if you are lucky, you will have a magnificent sight to the sea! For prices and further details, see the nearest holiday information desk!
To make sure there is no confusion here, there is an island Krk and an old city Krk, and this tips here are city associated. If you want to be accommodated in a hotel, you need to visit Baska, Malinska or other small or bigger spots on the Krk island.