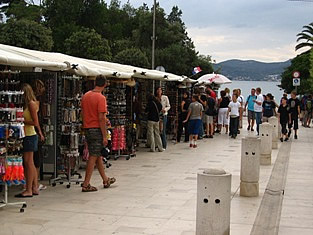 Town Zadar
The town of Zadar is also called »little Croatian Rome«, beacause of the large number of churches and its vicinity, but also because of the Roman remains such as Zadar Forum, here we find now the church of St. Donat. When we were on our holidays on Island Pag we planed also a visit to town Zadar, which is from Novalja approximate 50 kilometers far away.
Listening Sea organs and greating to the sun
In last years, the municipal put the sea organs on the cape of the old town. Now people can sit down near the sea and they are listening waves of the sea through the sea – organs.
The most joy of those sea – organs have the children, they are lying on the floor by the holes, from where they can listening the sound of murmuring sea. Another freshness of promenade lie next to the Sea Organ. The "Greeting to the Sun" circle with diameter of 22 m and made form three hundred multi-layer glass panels. When the sunset comes, the lighting elements built into the circle are activated blinking to the rhythm of the waves and the sound of the Sea Organ. From here you can take a walk by the sea or turn to the narrow streets of the old town and enjoy interesting things that town Zadar has to offer.
Sea organ
Sea organ is Zadar's best features, which emanate from the city's busy ferry port and other points on its open-air stage.
At the end of Zadar promenade you can watch one of the world's most beautiful sunsets accompanied by a fanfare of ferry horns. On the other side of coastal promenade you can sit on steps leading into the sea silent to listen to the eerie melody created by the waves and the city's sea organ.

The setting of the sun
in Zadar has left incredibly strong impacts that have not faded to this day. As a huge and perfectly placed symbol that dips into the sea, the Zadar sunset is a magnificent scene that has outlived time.
Distinguished globe-trotters and travel writers bear witness, thousands of postcards of the setting of the sun from the Zadar waterfront give proof: the most beautiful sunseet in the world can be seen and experienced in Zadar. It may be that the loveliest inscription of this hypnotic visual sensation was written by the famous Alfred Hitchcock. On the occasion of his visit to Zadar, in May 1964, the Maestro while observing the luxurious game played by the sun said: »Zadar has the most beautiful sunset in the world, more beautiful than the one in Key West, in Florida, applauded at every evening.« From room 204 of Hotel Zagreb, the great film master of suspense, enthusiastic and overcome by this notion, tried to catch the beatuy of the sunset with his camera. His visit of the city and his words are a memento to the Sun that never dies while casting its last rays. As does not die the memory of the great Hitch's visit. The following morning, after having slept and rested, Hitchcock stood in front of the lens of the famous Zadar photographer, Ante Brkan. His hand recorded this many a time seen portrait of Alfred. On Brkan's photograph »Alfred Hitchcock in the Sky« you can recognize the satisfaction of the classic of film art. »Drama is life with the boring part left out« Hitchcock said on one occasion. He could have said the same for all the drama of the suset, symbol that has always remained in Zadar's company