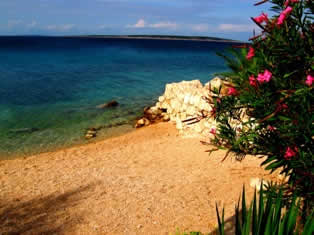 Bike trip to Mandre village
The start for a good bike trip could be camp Šimuni which is from the nearest village only one kilometer far away. Excursion is more of a family nature, of exploring the sea coast and to find out all of the characteristics of places and people. A short tour, which is aproximatly 25 km long, lead us on asphalt, macadam or even little beach pathways. The most suitable bike for this tour is mountainbike or a bike with rough tyre profile.


Along the road to the Mandrice tourist settlement
From the camp we turn in direction to picturesque fish village Šimuni. The coast of the place is a typical fish coast, very interesting is also a short and with trees overgrowed cape, where we can find a nice beach and a lots of chances for batheing and swimming. From the village Šimuni we go further on the asphalt road and after a kilometer we turn left on macadam road, which leads us straight ahaid through shrubby landscape to the coast. In the middle of the road is a small slope, but its not so hard to defeat this slope. After this kilometer we arrive in touristic settlement Mandrice..



Tourist places near coast of Mandre settlement
Here we find many short but nice beaches, with scent of romance. Above the beach is also another touristic settlement, but it is so nice just to drive with bikes through the coast line watching the sea. Now we finaly arrive to settlement Mandre. At glance the settlement looks like a tipycal touristic place. The beaches are almost empty in the first weeks of September, only in the coastal bars and restaurants we find a few tourists. If the weather is nice this place is very suitable for quick refreshing in the sea and later maybi a short rest on the beach. The village coastal road continues with a few kilometers from settlement Mandre.
Cycle off road from Mandre cape to Kolan village
.. This asphalt road turns soon into macadam road and at the and we drive on a little pathway, which is on some parts because of stones impassable. Here we continue the tripround cape by walking in direction of bay. After cca. 5 kilometers wambleing we arrive to beautiful bay, here we find also a nice restaurant. There is also the macadam road, on which we turn back to the settlements Mandre or Kolan. From the resaurant to the settlement Kolan is only cca 10 km. By this settlement is named the whole area all through place Novalja. You must stop in this place in any case. Here you can try a great cheese in nearest cheese dairy and shops, they offer a very tasteful sheep and goat cheese and an exclusive home made vines. In Kolan we can decide to turn back to Camp Šimuni (a short slope and downhill, together 3 to 5 km) or we can continue the trip in direction to settlement Novalja. Trip duration: because off road, swiming and other stops: 4 houres

Delicious island Pag cheese

..Pag cheese is one of the most famous cheeses, which is made of sheep milk, from the autochthon Pag sheep. This animal is pastured freeley on island Pag pastures. Pastures are rich grown with aromatic grasses and herbs. Among this, here we have also unique climate with a strong north wind, which carries sea salt on pastures. Mature Pag cheese has got his unique taste, it has granulated structure, which chrushes and melts down in mouth. They produce this cheese from the beginning of month January to mont June and ripes from six to 12 months.
Kolan village -Pag- vine, cheese, vegetables..
.. We can find the settlement Kolan on the low rising ground above the fertile valley, which lies 9 km south-west from Novalja, the nearest places for swimming we find 3 km far away coastal towns Šimuni and Mandre. Kolan has preservated his rich heritage, and the habitants are still preserveing Kolans traditional professions and trades from their forefathers. Kolan is also known for great restaurants, where you can taste delicious pasture specialitys like lamb, pasture vine Žutica and delicacy pasture cheese. From the people in Kolan you can also buy a lot of home made meals like home made honey, vegetables and vine. .