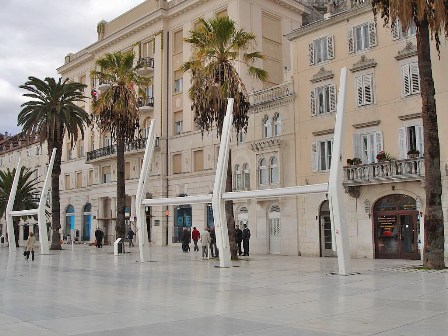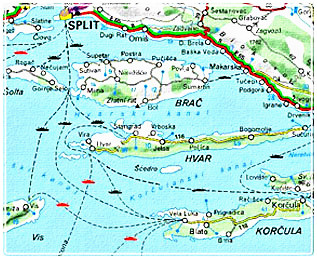 Hvar is one of the most charming Croatian island for visitors. This is especially thrue for the town of Hvar, that is as well Dubrovnik and Istria, the most well-known trademark of Croatian tourism.
You can arrive at the city of Hvar via catamaran starting from Split. Another kind of reaching Hvar Island could be by ferryboat which goes several times a day from Split toward Starigrad town - Hvar.
If you are traveling by car, bus or train, you must bring to the coastal towns of Split or Drvenik in Central Dalmatia. From here you can continue your journey by ferry.
Ferries sail from Split to Stari Grad (the transport of cars), in Jelsa (catamaran) and the town of Hvar (catamaran). From the city Drvenik (south of town Makarska) is a ferry that carries cars and leads to Sućuraj on the Hvar island. Ferry routes from Split - Stari Grad (Hvar) and Drvenik - Sućuraj (Hvar) lead every day, including catamarans (hydrofoil) from Split to Jelsa town and from Split Hvar town.
There are also international, seasonal lines from Italy, Ancona - Hvar and Pescara - Hvar, and coastal shipping line from Rijeka to Dubrovnik, which has a stop on the island of Hvar. More information about the schedule of sailing and ships can be found at www.jadrolinija.hr
Arrive Split town by airplane
If you are coming by plane the nearest international can airports Split, Dubrovnik and the airport on the island of Brac.
The easiest and fastest transfer is from Split airport to the city of Split and then by ferry or catamarans to the island. Airport Split is about 25 km away from Split town. No matter which mode of transport you choose to travel to the island of Hvar, you will be undoubtedly enjoy in romantic sea voyage.
From Split Airport to Split city center you can get by taxi, mini van or bus transportation service in about 40 minutes during summer season but that could be lot faster because of newly built roads from Split airport to Split city center.
From Split to Hvar


Airport of Split has many facilities where travellers can buy Newspapers, take a meal an there are large number of car rental companies. For transfer from airport Split to Split town you will pay about 35 kuna or 5 EUR.
Prices of taxi services are higher then bus and depends on time of drive from 240 to 310 Kuna or 35 to 45 EUR. Car hire could be good choise, especially if you have a plan to explore places of Hvar Island. Renting a car per day amount from 25 EUR.