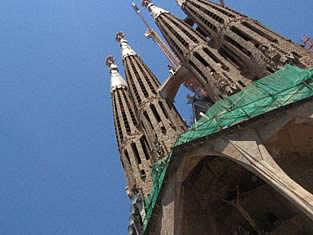 Symbol of Barcelona - Sagrada Familia
The most famous symbol of Barcelona howewer, is Sagrada Familia - The temple of Holy Family. Since 1882, this still unfinished work by Gaudi has astonished generations by its monumentality, but above all by its inspiration in nature. For his spectacular project, the modernist Antoni Gaudi used what were then uncommon materials. The varicoloured ceramic plates,glass, wood, roughly chiselled stone and wrought iron are characteristic of his style. Barcelona can boast many gems from the workshop of this artistic genius and they are some of the main attraction in Barcelona city.
Flamenco in Barcelona
Another attraction is the numerous show in which hot blooded musicians and dancers perform one of the greatest tresaures of the Spanish cultural heritage - the rytmes, songs and dances of flamenco. Though the roots of flamenco lie in southeren Andalusia, you can see first-rate show in the capital of Catalonia. Flamenco songs are full of pain and desperation. The typical rhytmical accompaniment is stamping of feet, clapping of hands, (palmas) and snapping of fingers (pali).
Rhytms and songs in Barcelona
A trend in recent decades has been for Spanish flamenco to be blended with medieval, Latin America, Arabic, end even African rhytms. Barcelona is full of surprising rhytms, scents, colors, feelings and uncommon experiences. Spain is an extraordinary, multicultural European country with an unusally dynamic history and a pleasant , friendly present.