In Dubai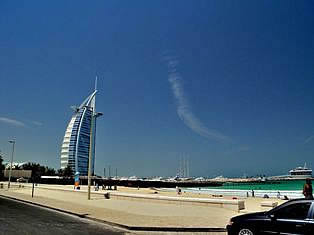 I went to Dubai with my family during my last travel in Sri Lanka and Maldives. In Dubai is actualy transit airport between east and west. Anyway we spend here a bit of our holidays. We plan to stay in Dubai only three days , but we have bad luck - all lines to Europe was canceled because of volcano eruption in Island. On the other hand we had a luck and spended six days to explore city of Dubai, desert and surround of Dubai. There was no problem with accomodation and with legals because of pass our visas. At first we explored Dubai with a bus to look arround and check points that should be interesting and worth to visit for us.
Skiing centre in desert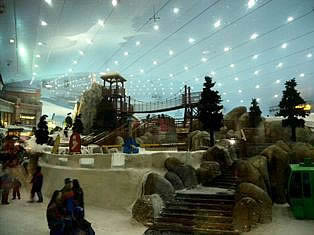 Sun and sand is plentiful in Dubai, but snow and shopping make a trip to Mall Emirates - Dubai's shopping resort. With over 470 stores housing the world's leading brands, snow and Ski resort Dubai, a 14 - screen cineplex, and two level family entertainment zone with indoor rollercoasters, and over 70 cafes and restaurants. There is also direct line to the Mall's metro station.
The town is truly modern and there are so many attractive places to visit. First thing which was at that moment (35 degree Celsius) worth of visit was skiing centre. We hired a taxi to find out and visit a skiing centre in this desert. What a huge area that this skiing centre covers. Once you go through this centre you will stop thinking about the roast of the out side as Dubai is a really hot city. We didn't ski, but you can rent all of equipment for skiing right there. Another houre and more we spended for walk through mall.
Burj Al Arab - Dubai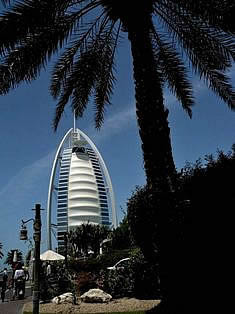 Dubai town a promising place to entertain you to its fullest, a town of attractions and the most advance structured built for leisure and business. Dubai town has world's highest class hotels. Dubai hotels range from 5 to 7 stars offering a variety of luxury stay for people who wish to travel to Dubai.
The Burj Al Arab looks extraordinary, so we wanted to know how does it look inside it. Unfortunately we did not stay at Burj Al Arab Hotel so we saw the building only from the beach. It's quite difficult just to walk around Burj Al Arab - the hotel stuff turn you back at the causeway unless you have a reservation. But we visited another mall with great arhitecture which mixed old and new. Worth of visit. Another nice view to The Burj Al Arab could be from the Madinat Jumeirah at nighttime. Have a drink in one of the higher terrace bars and look at the lights change on the Burj. The Madinat Jumeirah is by itself romantic places. It is a complete Arabian town designed as two beautiful adjoining hotels, linked by canals with electric boats to transport you around, and complete with its own souk.