Diving for pearls in UAE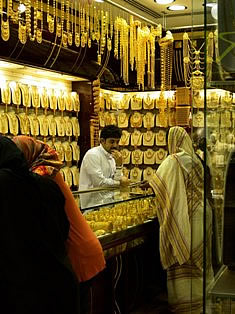 One of the must see places in the Dubai is certain Gold Souk. The sea area around the Emirates, especially Dubai, is a historic place famous by pearls. That thing was actually the reason for a visit of Gold Souk - to look at the jewels and ornaments from pearls and gold.
Dubai and its high quality pearl jewellery was known from old. From history is actually known to have been trade with "Lulu" - as locals call Pearls, one of the activities that enable people to survive.
When I looked at an old photographs of the Dubai surroundings, I established that there was just desert. To the time of discovery of oil fieldl, people survive with a food and good from the sea. Pearling was the most frequent activity of people close the sea.
Today is perling in UAE mostly a part of a culture and heritage of the UAE and other gulf states.
History of diving for pearls in UAE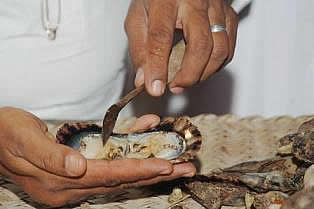 There are different types of pearls- the best among them Al Dana and Al Hasbah.
At the best of times in the harvesting of oysters and pearls worked more than 1200 boats with 20 divers. All boats started from the same port, sail together and after the summer harvest returned at the beginning of winter.

There are two main reasons (by my opinion) that canceled pearling. First thing is actually person named Tatsuhei Mise who in the year 1907 patented process of culturing of pearls. He implanted a piece of the mantle from one oyster to other oyster. In the nature one pearl occur on a thousand oysters but in cultivated condition perl ocur in every shell. This method caused an turning point in UAE economy because it could no longer to compete with cultured pearl market from Japan. The second things was growing of oil industry in the 1940s till 1960 when it became main industry of the region.
Dubai and Abu Dhabi - main pearling area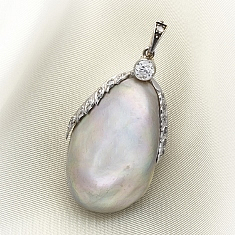 18th and 19th centuries was a time when flourishing trade with pearls between natives and Indian traders.
Many people of were moved to the coast close todays cities of Abu Dhabi and Dubai. All the people lived on the coast between may and september - at a time of pearling seson. In the winter time there is no pearling.
Divers who used to gather shells and pearls had a very simple equipment. Equipment and the way they are sometimes gathered shells and pearls, you can see in the Shindagha area at the mouth of Dubai Creek. At the end of your juney, treat yourself to a traditional Arabic meal in one of restaurants on Dubai Creek. In the old days, Dubai was renowned by pearls fine quality.
Today unfortunately pearls almost do not exist anymore in the Persian Gulf. If you look to the finest Dubai jewlery you will find mostly pearls from Japan where from UAE mostly import pearls. Today trends in jewellery prefer combination of pearls with platinum, silver and white gold. Take a look to some fine brand in Dubai, there are really a lot of it