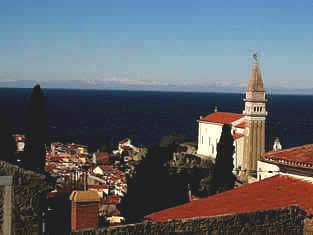 Historic walled town of Piran
Piran is a historic walled town on the Istrian coast of Slovenia. Below its dominating cathedral with its Venice-like campanile, lies the oval inner harbour, which was replaced in the 19th Century with an elegant town square, focussed on a statue of Tartini - an 18th Century composer, violinist and native of Pirano.
The town had its urban development constricted by its peninsular site and town walls and then by the 20th Century's border and social upheavals. Luckily the town escaped significant war damage.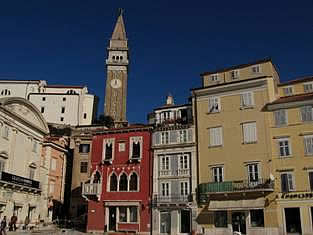 Visit Piran
The town of Piran is associated with the resort of Portorož/Portorose. Together they have a long history of tourism. The area is formally bilingual (Slovene/Italian) and the Italian minority. The built heritage of Piran town, the seascape and the surrounding landscape all make important contributions to the tourism value of Piran/Portorož.
Along the coastare national nature reserves and the salt pans are important for wading birds, for the quality of the air and sea as well as for the traditional employment. The sea is the area's fundamental natural resource. Carefully monitored by the Marine Biology Institute

Guiseppe Tartini's square
The town of Piran is mainly focused on Tartini Square, known as Tartinijev trg, named after the most well known Piran's violinist and composer, Guiseppe Tartini. In the warm summer, travelers or tourists can visit the Giuseppe Tartini house.
Visitors can observe his statue and wandering around on the marble that is paved in the region of the square which normally became the place to park cars. Tartini Square is a beautiful square especially the two antique 15th century Venetian houses but it is ruined because it is quite hard to take a photograph without bringing the cars in.

Climate in Portoroz
With its sub Mediterranean climate, Portoroz and Piran belongs to the warmest parts of Slovenia. Mild winters and not too warm summer are pleasant for staying in this area at any time.
Portoroz beach is actual the bigest baths in Slovenia. In high season the baths could be filled up by to more than 3000 bathers. Baths area are divided to sanded part and grassy part of beach. and has benn open between 01.06 and 15.09. . The beach is clean, settledis and secured also.