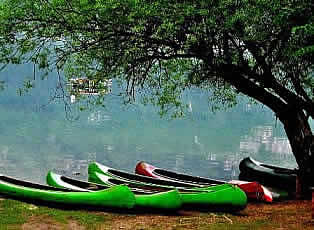 Bohinj valley
The legend said, that God gave humble, people in Bohinj the most beautiful part of Slovenia. When he divided the world he noticed a group of people, who wasen't in the forefronts. God felt pity for those people, and there fore he gave them Bohinj.

Bohinj is a picturesque valley in the heart of Julian Alps, which is known for lake Bohinj, the biggest lake in Slovenia. The lake is 4,1 kilometers long and 1,2 kilometers wide, it is 45 meters deep and it has 100 millions cubic meters of water. In the lake lives five sorts of fish, among them is also the lake trout, eelpout and bleak. Bohinj lake has also 65 varietys of algae. In summer months water in lake is around 23 degrees of Celsius.
What to do on a holiday to Bohinj
The most of visitors who spend their holidays in Lake Bohinj are lover of nature and outdoor life. They all enjoy natural beauty of alpine environment. Here are some recomendation what to do on your holidays in Lake Bohinj:. Enjoy ride through the lake. There circulate two ships, the ride in one direction last around half an hour.
Take a half day walk to the Savica waterfall and Mostnice gorge. You can choose a jouney with a cable car to Mt Vogel - winter ski resort at 1500 m and take a walk to the nearby mountain pasture. There in the midlle of village Bohinj find out gasthouse with traditional food and cheese production museum .

Sunny days in Lake Bohinj are great for sport and recreation's activites on your holidays like swimming, rowing, cycling, walking, rafting, canyoning, paragliding, horse back riding, adrenaline park, climbing, canoeing, surfing.. For those who prefer sunbathing are all around Lake Bohinj small individual beaches. On a rainiy day visit Aqua park in Bohinjska Bistrica town wich is about 10 km away from Lake Bohinj.


Savica waterfall
Trip to the waterfall of Savica is very popular for tourist in Bohinj valley. It is interesting that waters of waterfall originates from Triglav lakes valley and come up as waterfall Savica at the end of Bohinj basin. The big waterfall falls down in river pool, on the hight of 71 meters.
There are two sources; first at of 836 and second at the 790 metres above sea level. A short way down-stream it pours out to the glaciated Lake Bohinj.
Trip to the Savica waterfall
Waterfall of Savica is also the source of the river Sava Bohinjka, which is very suitable for water sports. Trip to the Savica waterfall begins near "Zlatorog" hotel at Ukanc. From here you can continue 5 km by car or you can take a walk and folow the footway signs to the waterfall. The starting point is a parking place at the Savica Waterfall hut.
From here begins the uphill walk (20 min) through zigzag path. On a hot days the walk sholud be a little gruelling but at the end worth it when you discover this beautiful atmospheric scenery. The fresh spray of waterfal refreshs you in a hot day..