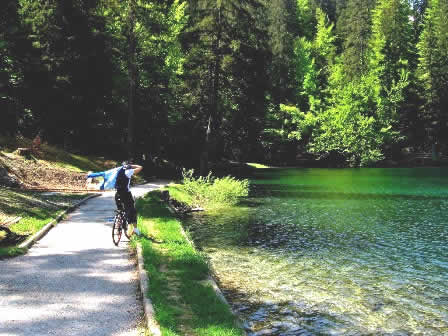 Cycling through grasses and woods
Lake Fusine (Laghi di Fusine Lâcs di Fusinis in friulano, Weißenfelser Seen, in tedesco, Belopeška jezera in slovene), are located in the eastern part of Tarvisiano, near the border with Slovenia. (by http://it.wikipedia.org/wiki/Lingua_friulana)
Fusine Lakes are located in a glacial basin of the amphitheater created by the limestone ridge of Picco di Mezzodì - Mangart - Ponza Grande. Two lakes Higher and Lower lakes are separated by moraine.
The streams flow into Superiore Lake, which is 5 meters higher than the Lower Lake., Due to underground water, poured slowly into lowest Lake and from the lower lake latter then feeds the Rio del Lago. Lovely area of Fusine Laghi lakes are one of the most important natural sights of the Julian Alps. The lakes, Superiore and Inferiore, are set like two gems in the green amphitheatrical cradle dominated by Mt. Mangart.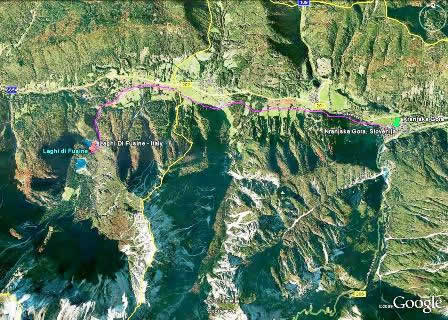 Trip to Laghi di Fusine
This family cycling route allows to get to see the chain of the Mt Mangart, Mt Vevnica and Mt Ponce. The cycling tour begins in Kranjska Gora - Slovenia and pass border to Italy.
The rout is unpretentious and you and your family will have nice cycle trip. At the beginning this is an asphalt cycling road, then it is a car road. . It is not unlikely to meet some animals, do not forget that you are in the Fusine Natural Park.

Arrive Fusine Laghi
Total distance of your trip amount 10km to 15 km. At the first lake your efforts will be over and only the return to Ratece and Kranjska Gora - Slovenia will be left.
Before you live this beautiful place take a short tour around the Lakes and enjoy their picturesque nature. Fusine Lakes, located in the eastern part of Tarvisiano, near the border with Slovenia, are beautifully placed in one of the most important natural sights of the western Julian Alps. On the way back to Kranjska Gora is still worth a stop to Zelenci - the source of the river Sava. The area is very nice so do not forget the camera.