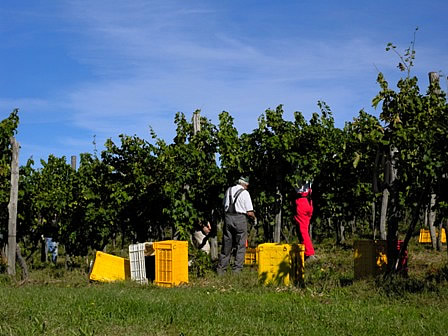 After your explore of Portorose and Piran coast, sunbathing, soak on the beautiful Adriatic coast, you should plan an trip to the hilly region above coastal town of Slovenia. Only few kilometer away from main resort of Portorose you can peep in to countryside of Slovene Istria and life of natives which live in the hills.
Get around in Slovene Istria
The Slovene lstria is a land of a great geographical variety. lt stretches from the edge of the Karst region an the east up to the coast on the west, from the Bartholomew Bay (Jernejev zaliv) on the north (the border with ltaly) down to the Dragonja River an the south (the border with Croatia). The coast in its total length of 42 km is a very indented one too. The relative smallness of the region makes possible that the tourist region on the coast is nearly united with the villages in the rural hinterland (the so called the Savrinsko Hills) such as Nova Vas, Padna Sv. Peter (St. Peter), Smarje, Marezige, Sv. Anton. All these villages are characterised by the same natural, cultural and human factors.
Hilly villages of Slovene Istria
The villages lies on a hill that in the west descends towards the Drnica Valley and in the south towardsthe Dragonja Valley. As Villa Noua or Villa Nuova it was firstmentioned as early as about 1300. By that name it was also marked on the first map of lstria in 1525 by Pietro Coppa.
The traditional economical activities were farming, cattle breeding, wine - and olive production, crafts and trades. In the village there is a small oil-mill.
The Rosemary Church was mentioned as early as 1470, renovated in the second half of the 18 century. Apart from the church there stands a 26-meter high church tower with the sculpture of Sv. Peter (St Joseph) from 1896.
Thera are two monuments in the village St. Peter: one reminding us of the fallen freedom fighters in the WWII, the other one of the victims of the fascists' regime.
Vine road trip
Where to start your trip? In surrounding of Portorose find out saltpans Secovlje. It lies in direction of Slovenia and Croatia border. If you are in good shape take your bike or rent a bike and continue travel to Sv. Peter village.
My advice: do'nt bike to the villages on the hills in summer heat. Take your car, stop on the places with fine view and enjoy peacefulness of old villages. Because of the traditional economical activities as farming, cattle breeding, wine - and olive production, find out farmers who sell vine or olive oil - ask natives in villages for red vine "refosk" or yellow autochthonous "malvazija" in wooden barrels. At the end of trip, take a meal or lunch in one of many gasthouses in villages and taste local food such as fish, spaghetti with truffles.