Bad Kleinkirchheim is the home of Olympic champion Franz Klammer. The ski area has almost 100 kilometres (62 miles) of runs.. The slopes connect to St Oswald, with skiing on three peaks, Nockalm, Maibrunn and Kaiserburg, up to 2,054. This resort is located only 70 kilometres (43 miles) from Klagenfurt (approx. 1.30 hours by car) Route: Klagenfurt A 2 direction Salzburg / Exit 178 Villach-Ossaicher See / B 94 to Radenthein / B 88 to Bad Kleinkirchheim
Where is Bad Kleinkirchheim
Bad Kleinkirchheim is a small mountain village with a lots of possibility for hiking, walking or biking to the places worth of your visit.
On your summertime holiday in Bad Kleinkirchheim you can visit some cultural sights in countryside like Craft Museum, the Church of St. Kathrein, the cultural centre built in 1492, you can hike, walk or bike through the routes or just enjoy peacefulness of landscape.

Bad Kleinkirchheim in summer
The holiday region around the National park Nockberge is dominated by the term "Alpine Wellness" and a holidays could be a blend of movement in the mountains and pleasant relaxation in the valley.
The center of relaxation in Bad Kleinkirchheim are two baths, whose healing Thermalwasser provide to relaxation. The two spacious and architecturally designed spa St. Kathrein and remarkable Roman baths provide a relaxing end to an exhausting day in the mountain.
Trips and hikes in Kleinkirchheim
Countryside of Bad Kleinkirchheim and St Oswald offers a shorter or longer walking routes like Circular hiking path St. Oswald, Circular nature hiking path, Viewing walk, Themed water trail, Sunshine walk, Valley walk, Walking mile, Sunny fields walk, Meadow walk, and at the end you can choose Cable car.
At first take your map and choose one of your hike.
The circular walking trail or " Sonnenweg" begins opposite Hotel Trattlerhof and runs along the sunny side in direction of golf curse. The trail continues past hotels, churces, meadows, guesthouses, farms, forests.. Dont forget to look at the Franz Klammer downhill course which is positioned near golf course.
Second very interesting rout could be a trip to thermal springs and mountan lakes. It is an ideal walk at high altitude on the Nockberge Mountanis even for children. The routh begins in St.Oswald at National park Brunach Cable car and continue by foot to the Rote Burg rocks, Schwarze Burg, Lake Pfannseen, Oswalder Bockhute hut and back to the Brunnachalm pasture. Hiking time 4 to 5 houres.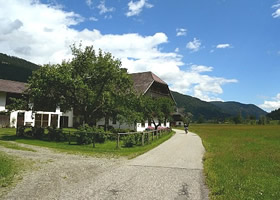 Advance hikers should to choose between pretentious routes like ascent to Falkert.. Floating to the mountains in the morning dew, enjoying the views in the evening after new impressions, with recharged batteries and soaked up sunshine down to the valley. Dont forget: take a map to your hike..
Autumn in Bad Kleinkirchheim
Numerous cable cars are welcome aids for conquering the autumn skies and walk along scenic mountain ridges.
Take an trip through the Nockberge and explore Bad Kleinkirchheim and Nockberge with your family. An absolute delight is autumn the most colorful time of the year. The elevations of the Nockberge Mountains are vainly reflected in the mountain lakes. The colors shine yellow, golden, brown, clear air and sunshine, a mild southerly wind, the crops ripe.