If you plan to stay in Salzburg over the weekend, take a look for Salzburg Card. It offers you free access to all city attractions and free urban transport. You can also get a Card in the form of Swatch watches, which is after use an useful fashion accessory.
Stay in Salzburg
What is Salzburg Card and Salzburg Plus ?
Salzburg Card is the most economical way to enjoy Salzburg for 24, 48 or 72 hours – provides single free admission to all of the city's attractions, free use of public transport and a number of other discounts. Mozart's city is the only city in the world offering an all-inclusive city package: accommodations, meals, attractions, cultural events and much more is simply debited from your Salzburg Plus Card or wristwatch (Swatch Access). No cash required. For more information on both packages, please contact Tourismus Salzburg GmbH.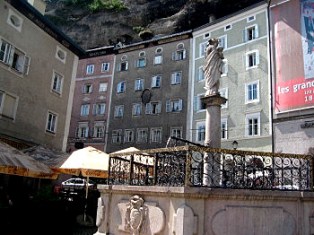 After all of the traditional or historical attractions, you will enjoy a touch of modernity like Museum of Modern Art, Hangar 7, modern Festspielheuser, and many of restaurants in the city. For a younger guests will be surely interesting the museum of toys.

Another attraction and refrsehing on a hot days will be shure water games in Hellbrunn Castle. Checked.
For those who love luxury and art is the right place hotel Blaue Gans in the center of the city and almost a mandatory stop at a restaurant Atelier zu Hellbrunn, with Mediterranean and French cuisine.

Original chocolate Mozart balls
At the chocolate shop right at the end of the main and most vibrant streets, where the view is already stopped on a gray scale, which is part of Moenchsberg, you will find original chocolate Mozart Kugel. The chocolate ball is shrouded in silver blue pack - This is a real Mozart ball.
You recognize it by the paper - after you unscrew the candy on the top of chocolate you will see chocolate dot - which means that it is made by hand. Chocolate balls are designed by Paul Fuerst, and this dot is a point where the ball is attached to a wooden rod.
Marzipan candy
Here is one version of a famous cake that originated in Austria and is modelled after the Mozartkugeln chocolate marzipan truffles. This is an elegant, elaborate cake that takes lots of time and some degree of skill to prepare, but is well worth the extra effort.Translated & adapted from "Kochen & Geniessen" magazine, directly from the German. If you are serving this to adults and want even more Mozartkugeln flavor -lightly brush the cooled cake layers with some Mozart Liqueur before stacking. In Germany, marzipan is often sold unsweetened in the baking aisle, in which case, you will need to add powdered sugar to it (which will absorb into the marzipan as you knead it). In the US, marzipan is often available already sweetened, in which case you can omit the powdered sugar, or add some to taste.. Read more: http://www.food.com/recipe/mozart-cake-36227#ixzz1jSurIFZd