Graz, Capital city of the province Steiermark (Styria)in Austria. The town is with its population of 250,000 , second largest city in Austria. The city is situated on the Mur river, in the southeast of Austria. It has a long tradition of being a student city, with 4 Universities and 2 Universities of Applied Sciences with over 50.000 students.
Old town of Graz
Graz is usually by guilty on a third place because of Vienna and Salzburg, but the captial of Austria Styria is in any case worth of visitation. Graz has got very big and beautiful preservable old town part from many of medieval, gothic and baroque buildings, between them you could see the hill Schlossberg.
Walking through Graz
The city of Graz looks like from a fairytale, and was in year 1999 placed as one of the cultural heritage of Unesco.
The medieval touch of narrow streets, many green plots, harmony of old and new, relaxed atmosphere and spacious view from Schlossberg are just some of the reasons for visitation of that pleasant town. The center in the old part of Graz is the Main square (Hauptplatz) with town hall. From here to the other bigger monuments are only ten minutes by walking. The town hall was built at the end of the 19. century, this monument and the fountains are attracting many tourists. Very interesting to visit is a wedding hall in a town hall.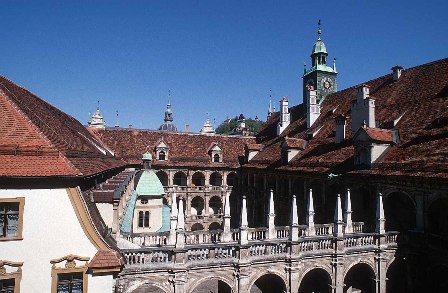 Shoping street
A tramway and a bustle on the Lords street
People cant get away an one kilometer long walk on the Lords street (Herrengasse) which is also connected with the Main square and Jakomini square.
This wide shopping street on which you can find only people and no cars, and in the middle of the street is only tramways, shops, restaurants and coffeehouses. Native people in this region likes to wear on special occasions their national clothing and women in their »dirndl« look very pretty to the whole image of the town.
Here the shopps are in he old buildings and the feeling to walk in this cute shopps is amazing. In the end of the street is the Jakomin square, where you can find the center place for tramways.
Schlossberg hill


On a 123 meters high hill Schlossberg there was once a small castle, which was in year 1809 destroyed by Napoleon. From the castlle remained only the bell tower and the time tower, which are now also the main trademark of the town.
After going on a slope hill it's interesting to visit beautiful Herberstein garden and enjoy in a lovely shade, specially if you walk 260 stairs. Very pleasant can be also a walk on the big lord towns park. This English natural park is old more than a century. In the park stands Parkhouse, a round building built in year 1928. Parkhouse was once a milk bar and today this is one town rarest places where they serve drink in outdoors after midnight. .. Pictures by : www.bigfoto.com