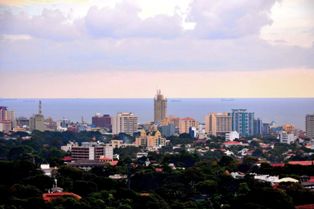 From airport to the city of Colombo
From the air-conditioning port we drove towards hot and humid, more than a million peopels big city of Colombo. The town Colombo is the biggest city in the country and off course economical and political centre of Sri Lanka.
From airport you can arrive the city of Colombo by bus. Catching a bus in Colombo is and experience in itself and is perhaps recommended only for hardened traveller. Busses become incredibly crowded and are erratic, with no obvious schedule.
A far safer way to come to the city is with a taxi. They are usually cheap and easy. Driving in the city is as much of an adventure as taking a bus and normal traffic. Rules do not seem to apply for either of them. It would be easier to hire a car with a driver. Three-wheeled auto rick saws are also available, they are a little cheaper than taxis. But auto rick saws are not such a comfortable transportation.
Capital city of Sri Lanka
Colombo is the capital city of Sri Lanka. It has over two million inhabitants and it is a mixture of old and new. It is different from other cities. Colombo has sky high skyscrapers, there are a lot of hotels and traffic.
City hall remind us on the White House in America, in it they still have a lot of army bunkers and soldiers with automatic guns. The main tourist attractions include museums, historical buildings, churches and beautiful parks. Especially enjoyable is the variety of cuisine that can be eaten at any one of the cities bars, restaurants, sidewalk cafes and kiosks.
Through the streets of Colombo
The harbour of Colombo gives an enjoyable feeling of Colombo's importance as the biggest Asian port.
Colombo offers some interesting places, for example walking through old town district named Pettah, which is one big market. In Pettah you can find almost everything from tooth brush to reserve parts for your car.
Pettah lies on east, and it is the largest market district, with influences of Dutch the Pettah takes its name from a Tamil word »outside the Fort«. Pettah offers everything what your heart desires. Not far away we come into Fort. This part of the city is full of modern hotels and embassy