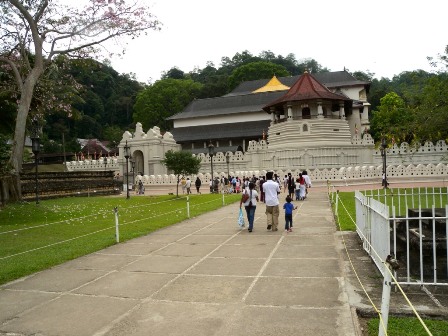 Buddha tooth - Kandy
Kandy is relatively new city, although the archaeological evidence indicating that it was settled 800 years ago.
The picturesque city of Kandy lies near lake in a basin surrounded by hills.
In the town of Kandy is the biggest attraction Buddha tooth, which is kept in the temple Dalada Maligawa. For all Buddhist is a great blessing when once in a liftime the Buddha tooth. Temple is located near the water and built on two floors. It is the most visited building in Kandy, not only by tourists, mainly from Buddhist
One of the three Buddha teeth
Buddha tooth in Kandy is one of three teeth, that were found at the cremation of Buddha -r the Indian prince Gautama Sidarte.
Sidarta was at 29-years waived natural things, to find the cause of people's suffering.
The first tooth held in Beijing, the second tooth brought to India the Tibetan monks who had fled from China and third tooth is here in the temple Dalada Maligawa of Kandy. In the former capital of Sri Lanka each year organize a major summer festival the annual Kandy Perahera, where thousands of dancers, acrobats, jugglers and drummers toogether with hundreds of decorated elephants walking through the city. This festival is the major event of Sri Lanka. The biggest elephant, covered with gold embroidery, worn on the back gold decorated container with Buddha tooth. All this is accompanied by noisy music, dancing, and a huge number of believers.
Walking to the Buddha temple - Kandy
Walking to the temple in the evening was great. We removed our shoes and went with the throngs of people to the centre of temple.
Kandyan dancers every evening present a dance show that is worth to see. The dance was done during the king's times as an entertaining show with beautifull dresses and music for the kings.
After visitnig of dancers show went inside the temple. The interior of the temple buildings is carved and decorated with gold, ivory, and various woods. The tooth relic is housed in a golden casket shrine enveloped with large elephant tusts and sits on a solid gold lutus flower.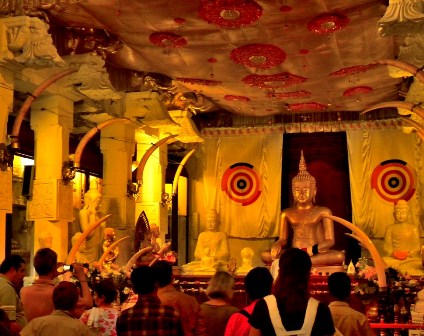 .
Buddha's tooth was in the past owned by the king and retained in the capital. When the capital became Kandy, Buddha tooth was transferred to Kandy when the town became s capital. It is the most sacred relic of the faithful. Once a week at the eleventh hour in the morning there collect a lot of believers, as trustee tooth removal from the pans and put it back immediately.