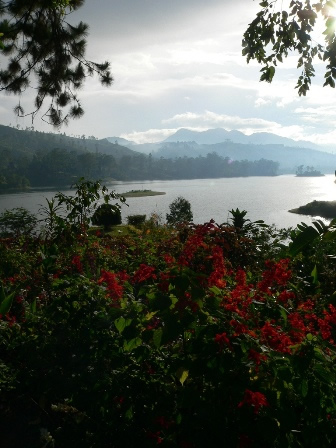 Travel to Asia
For everyone who travels for the first time to Asia, is the first impression very identical. When you get out of the plane you came into sauna. It is around 35 degrees, which is pretty bearable, but in combination with 80 percent of humidity it gets very hard. Unknown fragrances bang into the nostrils.
You arrive to Colombo Sri Lanka. Sri Lanka is an island of the southeast coast of the Indian state of Tamil Nadu. It is separated from India by the Indian Ocean. Sri Lanka has an irregular surface with low-lying coastal plains running inland from the northern and eastern shores. The central and southern areas slope into hills and mountains. The highest peak is Pidurutalagala 2,524m/8,281ft. Sri Lanka lies between the northern latitudes 5' 55 and 9' 55 and the eastern longitudes 79' 42 and 81' 52, 650 km north of the equator. It comprises 65,610 sq km and has 1,330 km of coastline. About 1,200 km to the west are positioned Maldive islands. Very popular are holidays that combine staying in Sri Lanka and the Maldives.
Culture and life in Sri Lanka
You will find yourself in the middle of the anthill of people, there is a lot of chaos, but still everything is functioning. It is even more funny than after ten days living that kind of live, you start to accept the chaos. At that time the doors of miracle Asia starts to open, with its wonderful fragrances, full of colour, weird animals, even weirder fruits, alternative medicine, scented sticks, incredible mixtures of spices, sensuality, exotic beaches with coral reef's, exotic fish and small people among them you feel like some kind of Godzila. People should experience Asia with all their senses.
Diferent place, diferent time, diferent life.. time to explore Sri Lanka
A total different time and space, in where they don't know a word personal space. Visit of Sri Lanka is much easier with touristic agency. Also, the Buddhism is here »arranged«; we weren't robbed, but they lie and cheat on every corner. And you can't get rid of nickname's madame and mister, with those nicknames they let you know that you are a tourist and for them nothing more than a bag of coins. Even sandy beaches can't help in that kind of way because all the women bath in their sari's and over a minute in the sea, you will get surrounded with at least four men, who are shameless staring at you. The best thing in that kind of situation is to pretend to be a movie star, wherever you go because the response is very identical. Time of adaptation is here longer, but even here in country that is at least 70 years behind, frozen in time and smells on petrol, decay and burned I don't know what, you get exposed to all the inconceivability's wonders of the world. Sri Lanka is not too much of touristic country. The only feeling of known give the old British buildings, from the colonial system, they are standing there over a half century. Unrenewed and shackled are jutting out from a total different period of time. Time and traffic connections are very much different from what we have in Europe. We drove (for our circumstances dangerous museum) trains, the highest driving limit is 50 km per hour, which in traffic jams means that you can in 20 minutes far away town came (with a car) in hour and a half. When you sit down in a car, you realize why is driving so slow? Driving in scissors is a natural phenomenon, which happens in every three minutes, and there are almost no traffic regulations. They usually use their car honk's, and all sorts of shouting and gesticulation...in short there is a lot of chaos in their traffic. Soon you realize that even with the biggest imagination you couldn't imagine the chaos and dirt you met on the streets. Trying to find a local restaurant with rice and curry, which looks like replica of mechanical workroom from 50 years ago.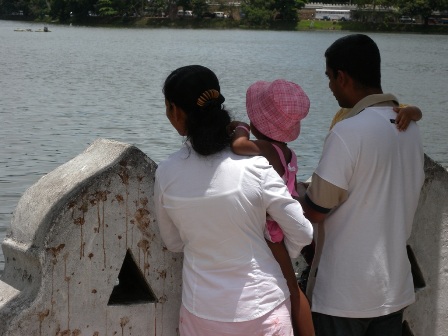 You can see legless people, with such a strong faith that they pilgrim on the 2243 metres high Adams Peak. Beautiful parks in where are Buddhist temples, mosque and Hindu temples which are functioning in coexistence. The pools are from the stone and settled parks with beautiful orchid's and other exotic flowers, trees, cactus and spice's, thousand years old 30 metres chiseled out Buddha's in stones, which the floors are covered with Chrystal's, seven Buddhistic caves with huge hand painted Buddha's chiseled out in living rock, water that flows upwards and least, but not last, the real Ayurveda's massage, which is one of the best massage's in the world. In spite they are making the oils for that massage from herbs and putrid trees, as they made from putrid trees all the other medicament. The Ayurveda healer's use those medicine and god help, they smell pretty bad, but at least hey help.
After visiting Sri Lanka's tea plantation you never drink the tea without knowing how much hard work was put in making tea. And for those who likes to eat spicy Indian food, there is no better place on the earth. Traveling are designed for opening unknown things to come in our lives and to widen our horizon's. They offer precious experiences from all different ways of live and they are only a few kilometers away, in Asia.