Anuradhapura map
View Larger Map
One of the best way to explore the ruins of the ancient city Anuradhapura is by bicycle. There are some offender where you can hire your bike. Make sure you have a viewing permit for the cultural Triangle. At first you have to arrive to Anuradhapura. If you dont wish to travel with some of groups then you can travel by buss or by train. You can take a train between Colombo and Anuradhapura that have a 1 st class air- condition observation saloon. Catch a train No 85, the Rajarata Rajini from the Matara to Anuradhapura which is at 410 Km long trail the longest train ride in Sri Lanka.
If you prefer travel by Bus the try to catch an intercity bus service which leaving Colombo every 30 minutes to drive to Dambulla town. You can take also Bus from Colombo via Puttalam to Anuradhapura.
Mahnabodhi tree
The Sacred Fig (Ficus religiosa), also known as Bodhi tree, Bo or Pipal tree is a species of banyan fig native to Nepal, India, Indochina, China. It is a large semi evergreen tree up to 30 m tall and with trunk diameter of up to 3 m. This plant is considered sacred by the folowers of Hinduism, Buddhism and hence the name "Sacred Fig". About 2600 years ago Siddharta Gotama attained the Supreme Enlightenment, or became Buddha, while sitting under the Bo tree in Bodh Gaya India. Emperor Asoka, a Hindu who converted to Buddhism, had a railing built around the Mahabodhi tree to protect it. A branch was taken from this tree in 288 BC and planted in Anuradhapura.
It is hard to believe; but without a shadow of doubt—that this small tree with limbs so slender that they must be supported on iron crutches, is the oldest historically authenticated tree in the world (2,200 years).

Workmanship, masterpiece..
Anuradhapura- Polonnaruwa
Anuradhapura, was Sri Lanka's first capital, and the royal capital for more than 100 Sri Lankan kings. It has a hot climate with a dry season. Mostly flatland with some lonely hills and rock-outcrops.
Polonnaruwa was the second capital of Sri Lanka after the destruction of Anuradhapura in 993. Today there are two Anuradhapuras. Moderen one with banks, pst offices. hospitals and ancient town with palaces, gardens and bathing ponds.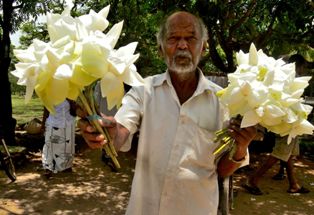 There in ancient city are three separate monastic complexes. Each of complex is focused to giant stupa in Anuradhapura namely, the Jetavana, Abhayagiri and the Ruvaneli stupa. The Mahathupa - Great Thupa is today known as the Ruvanveliseya Dagaba. Because of it's long history of guarding the traditions of Theravada Buddhism, and because its monks kept the most sacred shrines at Anuradhapura, Maha Vihara is the most important monastery of the city. Although not it's true height and original form, the fine white Ruvanveliseya Dagaba, guarded by a 'wall of elephants', still looks magnificent.