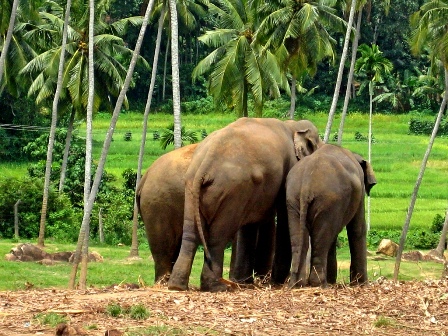 Orphanage of elephants
Pinnawala is the orphanage of elephants in which lives about 100 elephants. We visited them, and watched how they are bathing in the river, resting and how they are fed.
Can you imagine that this land's biggest animal could be so loving, gentle and playful? I always imagine elephants are aggressive animals. When bigger group of elephants came to have a morning bath, they first soaked a little bit and then they gathered into a group. I removed myself from the crowds, where I can peacefully watch numerous scenes of elephants in the river . And so my journey to elephant country began.
Sometimes I didn't know which scene I can shot. Later I found out that the most beautiful shots are in my heart. Younger elephants moved in couples from the crowd, somewhere to have peace, where they talked with themselves with gentle eyes. Who knows what, then they fondled with their trunks, and at the end they even kissed.

Watching the game of baby elephants
The youngest - baby elephants played in mud of Pinnawala orphanage. Five of them throng for little piece of stone. When they got tired of the game, they started to play with the water like »little children«.
With their paws they throng on the stone, until one of them fell into the water, then they lied on him so he couldn't get out from the water. And again he's trunk look out…
Again on the other side of the river you could see kisses from mummy and daddy elephant. When young elephant noticed that, he ran towards them. Although we were so close, elephants didn't give a lot of attention to us, they enjoyed in their own company. I never saw so much love and tenderness on one place in a long time. I still can't believe that elephants can be so playful, gentle and romantic.
Tourists in Pinnawala
Suchlike institution – orphanage for elephants in Pinnawala – it is also the first one in the world. In the big enclosure lives around 100 elephants. They fed them twice a day.
Elephants eat more than 150 kilograms food per day. In the noon elephants are taken on bathing in the river, where they can paddle and play around two hours. Clese the river we can watch elephants and also go to them and pat them. Alone without escort – muhuta (people, who is occupied with elephants) you can't get to them because elephants are still wild animals and no one knows how they are going to react. Muhuta have in their hands always long sticks with the spy. They use them only if it is necessary. When I stepped to one little elephant, his mother immediately stepped beside me and they both started to sniff me with their trunks. Their skin and bristles on their head are pretty rough.
Near the river, tourists can find many shops for buying all sorts of souvenirs. The most original souvenirs for me, were products from paper, which are made from elephant excrement. Barging is an urgency!