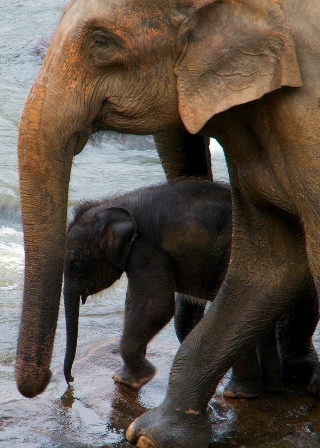 Visiting of Sri Lanka parks
Sri Lanka offers a lot of little wonders. White sandy beaches, rankness greenery, exciting adventures, incredible encounters with wild animals, and very rich cultural heritage.
Places which are worth to see In Sri Lanka are for shre national parks: National parks Yala, National parks Uda Walawe, National parks Horton Plains, National parks Bunala, National parks Gal Oya, National parks Wasgamuwa, Sinharaja: Rainforest of Sri Lanka.
Yala national park
The trip into national park Yala, which lies north west from sacred town of Kataragama, is definitely tourist's must stop place. You can't miss it because there you can admire the whole palette of wild animals.
The most appropriate time to go on to the Yala trip is early in the morning, right after the sunrise. Park is closed down in dry period – from the end of August to October. Visitor can meet there crocodiles, water buffalo's and herons who are gathering around water caves, sometimes people can see also gray giants – wild elephants who are usually between the bushes in the distance.
Natural habitat of Uda Walawe National, who is 308 square kilometers long and gives home at least 600 elephants, is surrounded with water tank Uda Walawe, where elephants go to have a bath. There are also other inhabitants of the park such as deers, wild elephants, wild hogs and jackals (if we mentioned only few of them).
Other National parks in Sri Lanka
National park Uda Walawe
is located 170 kilometers south from Colombo. The park Extennds on approximately 30.821 hectare. Park lies in countiess of Ratnapura and Monaragala.
National park Horton Plains
National park Horton Plains is the only national park, which lies in hilly part of the country, not far away from legendary ascent of Sri Pada (Adams peak). It belongs in the county of Nuwara Eliya, which is 200 kilometers from Colombo. Panoramic beauty of the hilly country is the first thing we can admire. Park is rich with a lot of animal species, here we can find some of the endemic species, for example there are endemically Slender loris and purple monkeys.
National park Bundala
This is the newest acquisition of Sri Lanka's national parks, it lies 260 kilometers from Colombo. This park is dwelling all water birds in the land, among other migratory birds.
National park Gal Oya
Location of the park: National park Gal Oya is 314 kilometers far away from Colombo, it lies in Inginiyagala. Remarkableness: Park Gal Oya is known on its population of the elephants.
National park Wasgamuwa
Position: It lies approximately 200 kilometers from Colombo. National park of Wasgamuwa lies inside counties of Polonnaruwa and Matale. Rivers Mhaweli and Amban are the borders between east and west side of the park. Prevailing environment of the park is tropical forest, which influences on flora and fauna of the whole area.
Rainforest of Sri Lanka - Sinharaja
Rainforest of Sinharaja is one of the most protected secret of whole Asia – this is one of the least visited and biological unique forests on Sri Lanka. This amazing forest is spreading out over approximately 11187 hectares from east to the west of Sri Lanka. Length is around 21 kilometers and the width from the north towards south measures 3'7 kilometers. In year 1988 Sinhraja was proclaimed as the national reserve (region of wild nature), the year after (1989) was proclaimed for the world heritage. Sri Lanka has seven regions which are belonging between world heritage. The forest lies southwest in lowland of Sri Lanka, in regions Ratnapura, Galle and Matara. Average year temperature in Sinharaja is 23'6 C. Precipitation diagram is showing valuables from 3.700 to 5.000 on region inside the forest. Average height of the drees is between 35 and 40 metres, some of individual trees are even 50 meters high. Vegetation in Sinharaja is tropical forest with high level of endemics. Untouched genetically potential of the forest vegetational world is enormous.