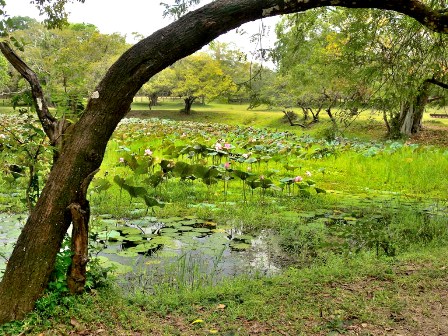 Gal Viharaya Temple
Only few kilometres from Polonnaruwa you can find another remains of Polonnaruwa town - a World Heritage Site: Gal Viharaya., .
One of the most striking of the many stone statues is a 14 metre Buddha statue, carved out of living rock. To one side of this reclining Buddha stands a 7 metre Buddha, in a rare pose with crossed arms. Another smaller statue of Buddha sits in deep meditation, while a fourth figure is set into a cave cut in the rock wall.

The statues are carved of a long granite wall which forms the backdrop. Along the rock there are four images carved out of the rock. The southernmost depicts the Buddha seated in lotus pose with his palms resting on his lap. The face of the Buddha reflects all the tranquility of a person deep in meditation, and around the head of curls is a halo of light sparkling with the radiance of inner wisdom. The next image is within a rock-cut cave where the seated Buddha is surrounded by various deities, including Brahma and Vishnu. In the rock-cut cave there are the remains of mural paintings that would have brightened the interiors of the rock shelter and glowed in the light of oil lamps. The third figure is the Standing Buddha with his arms folded across his chest. It is an unusual and rare pose.
Workmanship, masterpiece..
Populary known as Gal - Vihara, the site has been identified as the Uttararama built by King Parakramabahu the Great 1153 - 1186 a.d. The Buddha images here are widely known because of their exquisite workmanship.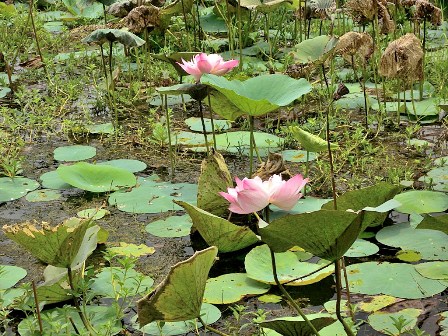 There had been individual shrine rooms for the images as suggested by subject of much controversy because of the rare posture of its hands. The central cave shrine, which houses a relatively small image, has traces of ancient paintings. The inscriptions on the face of the boulder between the standing image and the cave is the katikavata of King Parakramabahu the Great, which contains the details of the reformation of the Sasana and the code of discipline enforced on the Monks