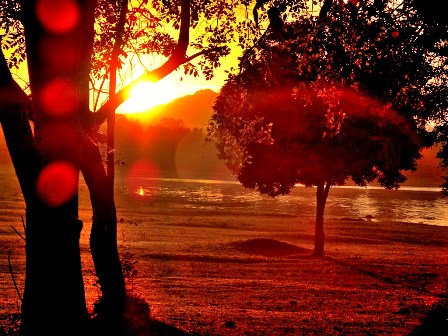 Amaya Lake resort - Kandalama Tank
Kandalama Tank is a beautiful lake situated close the town of Dambullah, which is around 160 kilometres away from the capital Colombo. Guests will be positively surprised when they see the surroundings. It is a perfect place for reasearch the sancturys and other cultural monuments.
The so called Cultural Triangle is the area roughly between Sigiriya to the south, Anuradhapura to the north west and Polonnaruwa to the east. In the middle of this area lies a wonderful resort and great origin for exploring this region - Amaya Lake.

Amaya Lake - origin for exploring central Sri Lanka
Lake Kandalama also called with the other name Amaya Lake offers tourists many interesting sightseeing spots.
Tourists can visit monuments who are centuries old and thousand years old kingdoms. The most interesting spots close to lake Kandalama are Sigiriya and Dambullah Cave Temples. Caves Sigiriya and Dambullah are more than 2000 year old cave temples. They are very close to the lake. A Minneriya sanctuary is anoter important place for visitation and we must not forget the ancient cities of Polonnaruwa and Anuradhapura.
Arround Amaya Lake
Surrounding of Amaya Lake is an interesting mixed world of half an jungle nature and civilisation. There are a lot of interesting spots around lake Kandalama. The lake offers some of sport activities such as boat rides, hiking, Mountain Biking and for animal lovers there are Elephant rides, Bird Watching and much more. The area is full of trees and other exotic plants so people can enjoy of watching the diversity of different plants and animals.
There are a lot of Eagles flying in the skies and a lot of Monkeys. Tourist can watch how Monkeys came to eat fruits, seeds and drink water from the swimming pool and from the lake.
Ayurveda

Sri Lanka is in general known for Ayurveda. Ayurveda is an traditional medicine which origin comes from India. Of course it is also practised in other parts of the world as a part of complementary and alternative medicine.
Boasting a fine range of warm oils and fragrant herbs, Amaya lake in Dambulla is a popular Spa Hotel in Sri Lanka. Visitors can indulge into a world of relax through its herbal steam baths.
It is interesting for visitors of Amaya Lake resorts that they can find original ayurvedic medicine here in the middle of Sri Lanka nature. They offer a relaxating facial treatments, herbal baths, several oil and herbal massages, aromatic steams, reflexology, head massages and many other therapeutic healings. They have more than fourteen Rejuventaion Programmes.