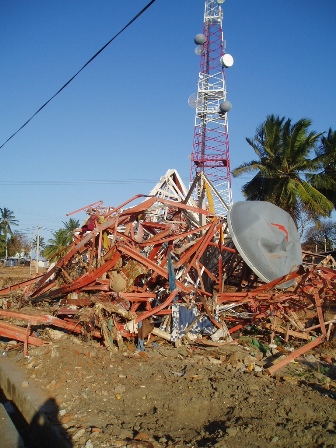 It is good to know before you go to Sri Lanka..
Tsunami has on 26th of December 2004 stroke altogether twelve countries, among Indonesia also Sri Lanka, India, Thailand, Maldives, Malaisa, Mjanmar, Bangladesh, Kenia and Somalia. Water took away houses, roads, bridges, water and electric installation, ships, agricultural surfaces and other infrastructure which was necessary for life.
Millions of people lost their roof over their heads, basic medicine and their relatives. Earthquake with power of 9th level on Richter scale with focal point by the Indonesian island of Sumatra made this huge waves. Over 230.000 lives in 12 different countries were lost. People in affected countries are reminding in different ways on one of the biggest natural disasters in modern world history.
Gathering on anniversary of tsunami
Thousands of people are gathering together on the anniversary of tsunami in Indonesia, Sri Lanka, India and in Thailand. They are gathering on fields, beaches and by numerous graveyards, to give an honour to people who died in tsunami disaster.
For most of inhabitants of that Islamic country, were these melancholy solemnities and prayers the opportunity for remembrance of their love once, who lost their lives in natural disaster, to think about of their present lives and to make an analysis for renovation of the affected regions. Some of the inhabitants who are more than four years after the disaster still without homes, were protesting against ineffective renewal and slow work of local authorities. Indonesia marked they're first anniversary of tsunami with a special drill, for the case of new tsunami waves on the most populated islands in Sulawesi and Java.
More than 40.000 died in tsunami in Sri Lanka
In Sri Lanka died in tsunami more than 40.000 thousands of people, and over half a million left their homes. The government told people that they should memory on dead people honoured with two minutes of silence.
Religious ceremonies were taken turns all over the country. The authorities announced that they already ordered 25 from 50 devices for early attention from tsunamis. Because of the tension between Tamil separatists and Singal government in Colombo on Sri Lanka are still living more than 10.000 people in provisional residences. As the sign of optimism the locomotive began to drive again. The locomotive was four years ago during the trip in touristic centre of Peralya on the south of the country affected by tsunami. More than a thousand people died in the accident.
Tsunami in Thailand
On Thailand beaches, where 5.400 local people and foreign tourists died on a Christmas holiday's, their family members and friends got together on special solemnities. They lie down garlands, light the candles, sweep lights into the sea and helped young turtles on their way to the sea. In Indian federal country of Tamil Nadu, took place religious ceremonies. In that country died around 6.500 people and those who survived were there to inform others on insufficiency of renewal.
A lots of people are still without permanent homes and many are dissatisfied with quality of the renewal. In the biggest international humanitarian operation in the history was in twelve affected countries renewed more than hundreds of thousands of homes, schools, hospitals and business buildings, but the differences of the renewals in different provinces are because of other reasons huge.