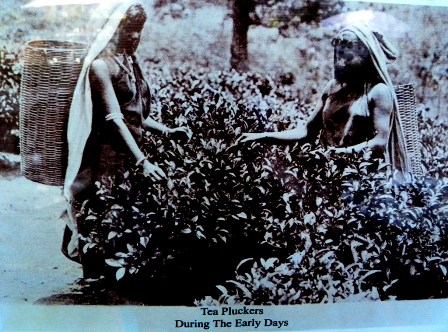 Tea plantation
Nuwara Eliya - "The Little England" of Sri Lanka situated about 2000m above sea level is set against beautiful background of mountains, valleys, waterfalls and tea plantation. It is supposed to be one of the coolest places on the island, but it is really just like an English spring day although the temperature does drop at night.
All around Nuwara Eliya, you will see evidence of the British influence country cottages or Queen Anne style mansions. The Victoria Park in the middle of the town is a lovely place for a stroll or a picnic and is also good for birding as you get some rare species of birds in this park. Seasons may be absent elswhere in Sri Lanka, but here you can read them by the flowers, which bloom in the spring (March-May) and the fall (August-September) during the heat of the summer is when low country flock Nuwara Eliya to escape the sea level heat and humidity.
Hill country
About year 1848 the explorer Sir Samuel Baker decided to settle here in hilly country of Sri Lanka permanently. He made a perfect little English country town of Nuwara Eliya. You can still seethe result a mixture of Tudor, Georgian and Queen Anne architecture, gabled roofs, bow windows..
Today Nuwara Eliya is the main hill resort and the heart of the tea industry in Sri Lanka. The town is still very much an English town with many English style bungalows and buildings. Nuwara Eliya is a good place to escape for day or two from the tropical climate of Sri Lanka.
Nuwara Eliya offers many activities for tourists including visits to tea plantations golfing, horse riding, boating, hiking and of course exploring the beauty of the landscaped gardens, waterfalls and plateaus.
Tea factory
Tea was first planted in Sri Lanka in 1824 at the Botanical Gardens at Peradeniya, when a few plants were brought from China. More were introduced from Assam in 1839. In 1867, a Scottish Planter named James Taylor planted tea seedlings in an 8 hectares of forest land, in the Loolkondura Estate.
In 1873, the tea export industry of Sri Lanka began with a modest 23 lbs. being shipped to London. Tea will grow only on rolling terrain and is classified by elevation into low grown, medium grown and high grown into 3 main groups. Today more than 200,000 hectares in highlands and other areas are under Tea and around 300 million Kilograms, with a 25% of world tea exports are done by Sri Lanka as the World's largest Tea exporter.
Tea pickers
The work in the tea plantation is hard and badly paid . To get to the plantations, many of pickers have to walk two or three hours. Given their meagre income (2 $ per dey), it is hardly surprising if some of the pickers ask a few rupees or pen.
The tea pickers are almost all Tamils.
In 1867, James Taylor a former coffee planter who was then cultivating Cinchona, successfully raised ten bushes in 19 centuries where field on the estate which he managed at Laalecondera, near Datotoa in Hewahetu.

Hewahetu is not many miles from Kandy, the ancient capital. Just over 50 years ago, in the year 1815, the kingdom of Kandy and there fore in effect the entire Island had been ceded in the British.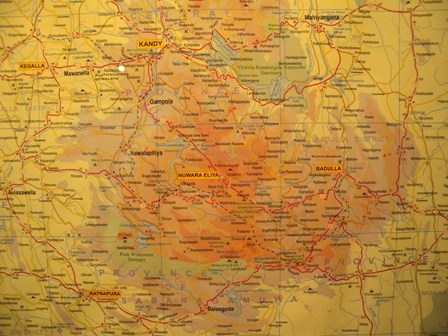 Ten years after, they came in of full possession of the country. The British estabished coffee as a revenue base, but when the collapse of the coffe plantations was imminent, in the 1860's oming to leaf rust vigense, the government commissioned a study in India to examine the possibility of replacing it with USA. Seed was brought from Assam and raised in nurseries at the Longal botanical gardens in Beradeninga. Taylor used seeds obtained from the Berdeninga nusreries in those first trails, which must have been one of the first pieces of serious demand driven in to ten cultivation in Englon.
Following Taylor's success the proprietors of Doolecondura agreed in coubert the estate to tea. One can imagine the flow of ideas in Taylor's mind as he came to take on his latest challenge: coffee, cinchona, from what I know of him he seems to have been exuctly the sort of person who succeeded in reseavely hard hended and pusposeful.
There were many such pro-scientits in Victorian times, both in Europe and in the colonies, who seemed to have had a natural fluir and interest for agriculture and technolgies innobation. At first, Taylor manufactured tea on the of hes log cabin using slave Indian workers. The plucked leaf was rolled by hand on tables and fired on stores, later he reduced the cost of production.