Turracher Hohe is one of the mysterious winter resorts, and it is still pretty big ski slope. It lies on the south of Austria right on the border of Carinthia and Styria, north from Villach and Klagenfurt. Turracher hohe is only 20 kilometers far away from the famous ski resort Bad Kleinkirchem.
Winter resort of Turracher hohe
In the winter time is Turracher Hohe (1763m) visitation spot of many skiers and skating lovers. In summertime people can enjoy in hiking, mountain biking, riding horses, fishing and playing tennis or golf.Their hotel Hochschober offers visitors the experience of the fairy tale Thousand and one night.They have the original oriental hamam, the only one in the Alps. On the lake Turracher people can visit the copy of the real Chinese pagoda. In pagoda you will find the center of traditional Chinese medicine, visitors can participate multiple cultural activities and drink some cup of good Chinese tea.
Winter bathing in Turrach Lake
The area of Turach is very interesting for hikers in summer holidays. A hike around the lake and a
short tour nears the forest is a pure pleasure. The lake is a typical mountain lake with low
temperatures of water. It has in summer time at the 15 meters depth only four degrees of Celsius. They put in winter time nears the hotel a floating pool, which is the only one in Europe. Bathers can in the middle of the winter enjoys in the hot bath, which can reach to 32 degrees of Celsius.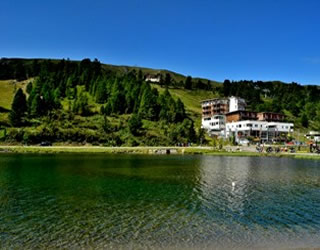 Cycling to the Turrach pass

Like every mountain crossing is Turracher hohe also accessible by two sides. In that case it is not only the southern and northern access, we could also named it moderate ascent and extremely hard ascent. The road from the northern side is on 20 kilometers long. Part from the vally of river Mura ascend for around 840 meters or 12% of inclination.
Picture from the southern side is completely different. The road from the settlement Patergassen in Gurktal rises for 750 meters. The last section infront of the pass Turrach reaches 23% inclination and last two long kilometers. That can be exceptional challenge for every type of bicyclist - road and also mountain cycler.
Hiking in Turracher hohe

A good example are the hiking paths around the Wild waters of National park. Visitors can enjoy here the fascinating light play – in spring you can admire in the National region
Hohe Tauern Carinthia the amazing waterfalls.
The snow from winter changes because of the higher temperatures into crystal clear water. One of the most beautiful waterfalls in that region is near Grossnitz-Waterfall or the Malteiner Waterfall. The melting snow transforms waterfalls into booming elemental force. Also the Barbarossa or the Groppenstein gorge are in this moment very interesting and breath taking sightseeing spots. One of the most spectacular gorges in the Alps the Ragga gorge is in the begin of May open again.