Bad Kleinkirchheim is the home of Olympic champion Franz Klammer. The ski area has almost 100 kilometres (62 miles) of runs.. The slopes connect to St Oswald, with skiing on three peaks, Nockalm, Maibrunn and Kaiserburg, up to 2,054.
Bad Kleinkirchheim and St. Oswald ski area
This resort is located only 70 kilometres (43 miles) from Klagenfurt (approx. 1.30 hours by car) Route: Klagenfurt A 2 direction Salzburg / Exit 178 Villach-Ossaicher See / B 94 to Radenthein / B 88 to Bad Kleinkirchheim
Cross-country skiing
Complete pleasure – cross-country skiing. Supple movements, powerful strokes, discovering nature while gliding. Gliding and drifting, in classic or skating style: Bad Kleinkirchhiem offers plenty of possibilities for gentle winter sports. The eight kilometre long valley trail is snow covered from November and can be skied in both styles.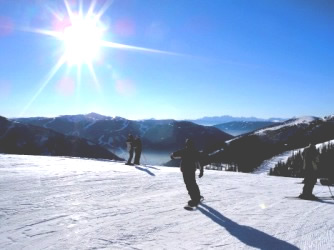 The Nockalm mountain trail at 1,870 m altitude promises snow-guaranteed winter pleasures. A further 45 kilometres of cross-country trails provide a connection to Gnesau and further on to the Gurktal valley.
Beginners will love the gentle valley tracks while the more ambitious will aim to get higher up – but Bad Kleinkirchheim spoils them all: Romerloipe Bad Kleinkirchheim: 8 km with snow guaranteed. Connection to the Romerloipe Patergassen-Ebene Reichenau-Gnesau (42 km long) is possible depending on the snow conditions. and Hohenloipe Nockalm (1,870 m altitude), 4 km skating circut.
It is worth to know that 97% of the more than 100 kilometers of pistes are covered by the snow-making machines. Between Bad Kleinkirchheim and St. Oswald all pistes can be directly reached on skis or snowboard. The ski area of Bad Kleinkirchheim covers 300 ha and has more than 830 snow cannons, 5 reservoirs, 11 pumping stations, 6 large compressor stations, 710 tapping points and 50 km of snow pipes. You can take a shuttle bus (with your visitor's card – free of charge) to travel between Bad Kleinkirchheim and St. Oswald ski area. The gentle Nockberge Mountains are covered with snow that glistens magically in the sunshine. More than 100 kilometres of pistes and snow guaranteed thanks to the latest snow-making facilities ensure pure skiing pleasure. The gentle altitudes around bad kleinkirchheim encourage soft swings,rhytmic movements, dancing in the magic scenery of powder snow. Gentle slopes for laughing children dramatically escalate to the speep Franz Klammer World Cup run.
Winter Tips in Bad
Night tobogganing – 2 km floodit toboggan run at the Kaiserburgbahn, toboggans available for hire for a fee. Ice skating – Next to the indoor tennis centre/Bad Kleinkirchheim and on nearby lakes Brennsee and Afritzersee. Snow shoe walking – Professionally guided snow shoe walks.
Operating times of the cable cars in season 2010/2011: The entire Bad Kleinkirchheim/St. Oswald ski area will be open until 3rd April 2011 without any interruption. After that, from Palm Sunday until Easter Monday, the ski lifts will be operating in the Kaiserburg ski area. Depending on the weather conditions, there could be limited operation of the ski lifts. For walkers and summit seekers, the cable cars will also be operating if skiing is not possible.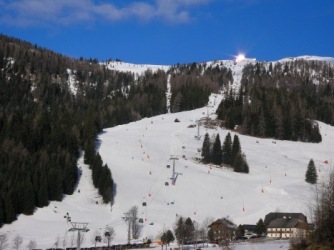 Worth knowing about Ski hire in Bad Kleinkirchheim St. Oswald - Austria
Intersport Gruber Tel.: +43 (0)4240-346 e-mail: rent@sport-gruber.at
Intersport Wulschnig Tel.: +43 (0)4240-555 e-mail: st.oswald@sportschile.at
»Die 2« ski hire Tel.: +43 (0)699-106 54 818 e-mail: die2@skiverleihdie2.at www.skiverleihdie2.at
Hire possible at the 3 stations: Kaiserburgbahn bottom station Tel.: +43 (0)4240-8804 Maibrunnbahn bottom station Tel.: +43 (0)4240-8808 Nationalparkbahn Brunnach bottom station Tel.: +43 (0)4240-204 85
Sport 2000 Sportcenter Handels GmbH, Tel.: +43 (0)4240-8167 sportcenterbkk@aon.at
Sport Christian Rent a ski – Shop - Service Kaiserburg Tel.: +43 (0)4240-204000 Bach Tel.: +43 (0)4240-8886 e-mail: sport-christian@aon.at www.sport-christian.at