Last year we planned our first cruise on the river. In the selection of river cruises, we preferred the area of Europe. On the cruise we wanted to see the cultural as well as natural attractions. In the shortlist has been involved several of rivers, but at the end we decided for Rhine holiday option - an cruise down the river of Rhine.
Start of Rhine cruise trip
The river Rhine is also interesting because of their flow direction - the river is flowing from the south to the north. It originates in Switzerland, but their outfal is in the wide delta near Rotterdam Netherland. We started our Rhine crusies in Basel, Switzerland and ending it in Amsterdam.
Before we boarded to the ship we visited the city of Basel with its picturesque streets. The ship, with its luxurious furnishings, stylish elegance delight all the passengers. We were glad to attend our first day holiday dinner on a board. They served by local goods and of course with the local sort of vine.
In the folowing days we continued Our cruise with the visit of Strasbourg, Speyer and Rudesheim. We enjoyed view to the picturesque landscape and relaxed on the Sun Deck.Throughout the cruise I had all the time camera. At the end of the trip came a beautiful collection of images.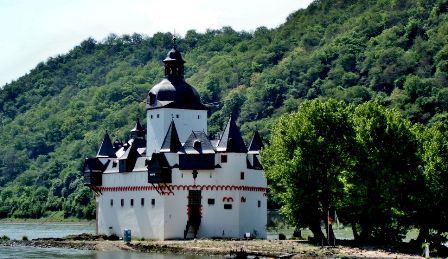 Rhine Gorge cruise
Cruise through the Rhine Gorge has been the biggest surprise and experience for us. We sailed down the river along which are scattered hiltop castels and numerous vineyards.
We had a feeling that castles would compete, which of their is more unusual and and which will have a more beautiful views across the river Rhine. In the town of Rüdesheim, we also visited the world famous street of Drosselgasse with lively pubs and wine cellars.
We continue cruising towards Koblenz, Boppard Cologne and finally arrived in Amsterdam for which we have reserved three days of our holidays. We took a chance and visited Van Gogh Museum, Anne Frank House, the picturesque streets of the town and I almost forgot to mention a visit of nomerous shops all of kinds.