Apart from Bahamas Island's many other attractions, it is also known as one of the best golfing spots in the region. The Bahamas provides an excellent haven for both professional and new golfers alike.
Playing golf between sand and water traps of Bahamas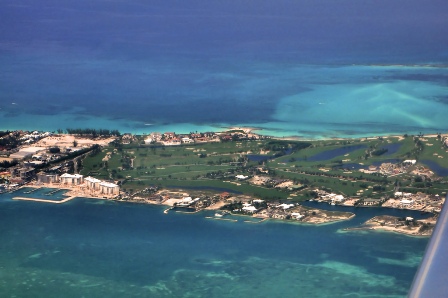 Almost every golf course in the Bahamas has good sand and water traps, which heighten the challenge for many golfers. Golf lessons are also available for first time golf players and may be booked privately or by group. You may want to book at least one day ahead if you want to take private golf lessons while group lessons usually have pre-determined class schedules and lower rates than private lessons. Here are some of Bahamas Island's best golf resorts:
Crowne Plaza Golf Resort & Casino at the Royal Oasis.
This grand Bahamas golf resort situated in the Grand Bahama Island boasts of the lush Emerald and Ruby golf courses, each with a par-72, rolling, sandy terrain. .
Four Seasons Resort Emerald Bay Golf Club.
A world class Bahamas golf resort situated at The Exumas, this 18-hole, par-72 course is a challenging golfing haven for golfers of different skills and levels.
Ocean Club Golf Club.
This Bahamas golf resort in Paradise Island is a par-72 course 18-hole stunner, with a great panoramic view of the ocean. It has its own pitfalls, which include the biggest sand trap in the world, and water hazards on all three sides. As a matter of fact, famous golfers such as Jack Nicklaus and Gary Player have endorsed this Bahamas golf resort. Have a blast playing the par-3 14th hole at the Ocean Golf Club.
Radisson Cable Beach Golf Course.
This main course in Cable Beach is known as the oldest Bahamas golf resort. The par-72 green Radisson Cable Beach Golf Course was where British expatriates once stayed in the 1930s. It has more than 7,000 yards of lush greens and fairways as well as water traps and mini ponds that perk up the challenge.
The Reef Course.
Located at the Grand Lucaya in Grand Bahama Island, this Bahamas golf resort has been tagged by the Bahamian press as a course with a lot warmer Scottish course, which boasts of more than 6,000 yards of verdant link-style greens.
Even though clubs are available in almost any Bahamas golf resort of your choice, you may want to bring your own, as club rental can be a little pricey.
You can take golf included in your vacation package or better yet, get a Bahamas golf vacation especially for the discerning ones who want to get a truly unique and different golfing experience in the Bahamas. Many Bahamas hotels and resorts, usually those that have golf courses, offer golfing attractions to their tourists. Book a Bahamas golf vacation package if you want to include golf in your vacation to do's list.. Golf resorts Bahamas by dragoa: .