Situated on the old-fashioned Harbour Island and radiating majestic charm, Pink Sands in the Bahamas island is labeled as the celebrity hideaway. It has lured the sophisticated travelers who are in search for an elegant beach escapade.
Pink beaches of Harbour island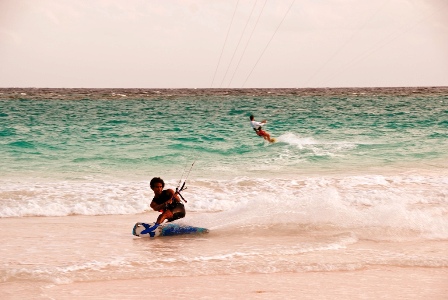 This eighteen-acre seventh heaven is home to the most famous and spectacular beaches all over the world, on relation of its sand that due to its crushed fragments of corals in its center, actually is pink.
Refurbished by the music magnate Chris Blackwell and designed by the Biba creator Barbara Hulanicki into a haven of chic, Pink Sands Bahamas resort includes pastel-colored cottages placed at the edge of the three-mile beach, scattering all throughout the flourishing tropical grounds.
The rooms of this island resort have any a garden or ocean view as well as private patios having central air-conditioning, teak furniture, walk-in closets, ceiling fans, full bathrooms, satellite television along with a VCR, and wet bars. They have a pool in freshwater, tennis courts, gift shop, exercise studio, beach house bar and restaurant and club house. Every cottage is created to guarantee privacy for every guests and are passionately adorned with a blended style of the Balinese, Indian and Moroccan designs. The private patios are a perfect opportunity for relaxation.
Pink Sands Bahamas resort
One will find Pink Sands Bahamas both witty and understated, with its Far Eastern and Moroccan inspired grand lobby and a bar made by stepping stones, crossing a little pond.
The activities done at their freshwater pool, tennis courts and exercise studio may well be balanced with a brush of relaxed library study, providing music, films and books and some contemplation on its beach sun beds.
Romantic dinner and breakfast are served outside at their garden restaurant. You can take lunch at their Blue Bar, overlooking a clear turquoise stretch of ocean waters.
Pink Sands Bahamas is easily accessible via air transfers from the international airport of Nassau to Eleuthera. There are taxicabs or water taxi going to Harbour Island. The price of the resort accommodation varies on the cottage type.
Origin of the name Pink Sands Bahamas
The name Pink Sands Bahamas is apparently coined from the sands of the island itself. Mainly, the island is worldly recognized and visited because of this landmark. The beaches are in pink shade due to the red corals commonly seen around the area and mixing with the white sands, it appears pink.
The labeled celebrity destination hideaway, Pink Sands Bahamas continues to become a legendary in the mythical Bahamas island and has incessantly attracting tourists for nearly 40 years now.. Pink Sands Bahamas by dragoa:.