Bahamas snorkeling is known as one of the most talked about activities when vacationing in the Carribean. A Bahamas snorkeling experience can let you see and feel for yourself the most breathtaking and spectacular underwater scenery that is brimming with life and so much color. The possibilities are endless when going for a Bahamas snorkeling.
Explore cave, reefs in Bahamas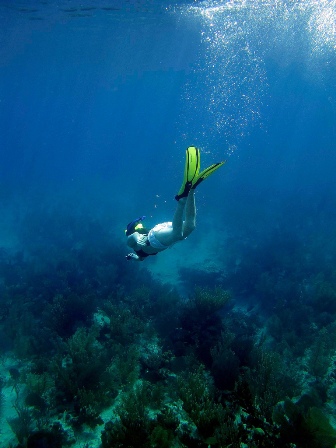 Ride with the gorgeous waves and explore many great underwater attractions like caves, coral reefs, aqua life and a lot more.
Almost all islands in the Bahamas make for an excellent snorkeling spot.
There are many snorkel shops as well as hotels and resort thats offer Bahamas snorkeling vacation packages and deals.
Organized Bahamas snorkeling deals are also available if you want to stay close to the water's surface. If you want to go further to view the magnificent coral reefs and other marine life, you can ride a boat. Snorkeling offshore may also be possible in some islands.

Some of the most popular islands where you can have the best Bahamas snorkeling experience are Andros, Bimini, Eleuthera, Grand Bahama Island, Long Island and Paradise Island.
Bimini, which is very popular for many fishing activities, is rich in underwater resources that make for an excellent Bahamas snorkeling experience where you can take a spectacular view of aqua life down under.
Popular places for snorkeling in Bahamas
.
Eleuthera has a number of beautiful secluded beaches that make the island a perfect spot for offshore snorkeling. The Current Cut, which is one of the island's sensations, is a fast moving gutter that takes you to an underwater current. Grand Bahama Island is surrounded by spectacular coral reefs and has many snorkel spots as well.
Meanwhile, Long Island's shallow bays, pristine white sandy beaches and magnificent sea cliffs provide seemingly endless opportunities for those who want to have a truly pleasurable Bahamas snorkeling experience.

Moreover, those who want to go for a Bahamas snorkeling in Paradise Island may want to check out the Booby Rock Channel, Gambier Deep Reef, Goulding Reef Cays, Lost Ocean Hole, Rose Island Reefs and some underwater wrecks that may be found in some coastal shallow areas. Paradise Island's Love Beach also promises to give you the best Bahamas snorkeling experience ever as well.
Snorkeling operators in Bahamas
There are just about a lot of snorkeling operators in the Bahamas. Hotels and resorts also offer snorkeling tours and lessons as well as a complete line of snorkeling equipment. If you plan on snorkeling, you may want to include it in your Bahamas vacation package.
Contact your nearest travel agent or hit online travel sites to know how to avail of it. Snorkeling in Bahamas by dragoa: