Nassau is the Bahamian national capital city of the Islands of the Bahamas located on New Providence Island, a neighbor to Paradise Island. Nassau Bahamas like any other capital, is the center of industry and commerce in the Bahamas, serving an attractive blend of old world colonial architecture, huge straw markets, and plenty of people combined with stylish new world luxury.
Nassau - tourist destination
The tropical climate, beautiful harbors, and the natural splendor of Nassau Bahamas have made it a popular tourist destination for relaxing days and exciting nightlife.
Nassau Bahamas offers more options for nightlife that wouldn't have enough hours in the day to experience them all, from casinos, cabarets, acrobatics and magic acts, theater performances to moonlight dinner cruises.
Catch the spirit of this amazing city, since the shipwrecking days of the legendary pirate Blackbeard, this bustling hub of the Bahamas has preserved its historic touch seducing visitors with its sultry magnificence combined with world-class shopping, epicure dining and lively nightlife. Nassau Bahamas is home to excellent local and international crafts and goods, from handmade batiks to Rolex watches.
Plenty posh resort hotels, casinos, and cruise ship docks make Nassau a lively center for entertainment as well as business. Enjoy the powder white sands of the world famous Cable Beach during the day and the thrilling action of the casino by night.
Visit sights in Nassau
Connected to Nassau by a bridge is the famed Paradise Island, abode to luxurious beaches and world class golf course. You can find the most lavish hotels, enormous casinos and world class entertainment here. You may also want to visit Nassau Bahamas during December and take part in an energetic, colorful parade of brightly costumed people circling and dancing to the rhythmic accompaniment of drums, whistles and cowbells during The Bahamian festival of Junkanoo, celebrated on the 26th of December and January 1st, beginning in the early hours of the morning and ending at dawn. Whatever your choice of adventure and activity in Nassau Bahamas, here are some places that you may want to visit when you get there:
Botanical Gardens
This is an eighteen acre garden with over six hundred varieties of shrubs, flowering trees and cactuses. It also features a huge collection of Bahamian and exotic orchids. This botanical garden is open from 9:00 am to 4:30 pm Monday to Friday, 9:00-4:00 on Saturdays and Sundays. Admission is at $1.00 for adults and 50 cents for children.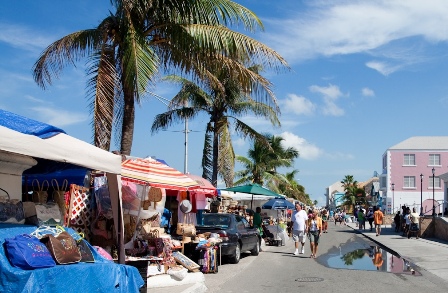 Arawak Cay
This Bahamian 'Fish Fry' locations is on the harbor across from Fort Charlotte, and offers cultural 'goodies' sold by vendors. This place is popular among the locals who usually gather there in the evening especially on weekends.
Straw Market
For souvenirs you may want to purchase native items and crafts which is located on Bay Street in downtown Nassau. Straw hats, dolls, straw mats, straw baskets, as well as t-shirts can be bought here and they are open from early morning till evening.
Queen's Staircase
The staircase is 102 feet high and was named in honor of sixty five years of Queen Victoria's reign; this is one of Nassau's most often visited attractions and has just been recently renovated.
Other places that you may want to visit in Nassau Bahamas are: Fort Charlotte, Potters cay, Parliament Square, Rawson Square, prince George Wharf and the Water Tower.. Nassau Bahamas Island By dragoa.