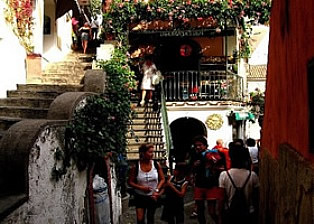 Stay on Amalfi coast
Amalfi coast, Pompei and Vesuvius Vulcan shall be sights that are worth visiting and which should be given at least a few days of yours holiday. For those who come to Pompei to see the famous ruins, the accommodation in Pompeii and surroundings can be a great base.
Accommodation on Amalfi coast is an ideal place for a romantic or relaxing stay, a step away from the beach and few minutes away from small towns of Amalfi coast. If you are looking for hotels on Amalfi Coast, choose a room with outdoor terrace or balcony where you can enjoy view to the coast and sea.

Discover Amalfi Coast
For visitors who enjoy visit museums and art galleries, Amalfi will not disappoint. Take a time to visit the Salone Morelli where 14 of Morelli's paintings are on view .
If you happen to be in Amalfi on a Wednesday, there's a fantastic open air market you should wander around and through. For hikers here are the trails along the south shore of a small peninsula just south of Naples, known for its steep cliffs and beautiful scenery.
Visit Positano town
Positano has a very glamorous side to it, because of the famous "Positano fashion style", this is just one of the many reasons that tourists from all over the world flock to the pathways, and boutiques of Positano each summer.

With it's beauty, luxurious hotels, bars, restaurants, and shops, Positano is surely a perfect place to discover the Amalfi Coast.
To the ruins of Pompeii
Pompeii lies near Neaples on the the South of Italy. Try to visit Pompeii ruins in the low tourism season. If you are stay on Amalfi coast than you can make one day trip to visit ruins of Pompeii. It can be easily reached by panoramic road around peninsula.