The Amalfi Coast is mainly made of rocky cliffs. Travel to the Amalfi township, which hangs in a spectacular way in a gorge dominated by the Mt Cerreto. Its medieval narrow streets attract many visitors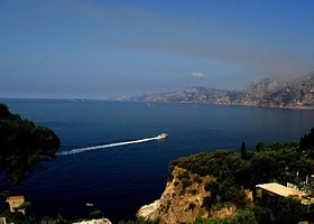 Amalfi Coast
. It offers a unique mix of architectural styles reflecting the variety of cultures, which have been influenced by oriental civilizations since 6th century A.D. Amalfi is renowned for the huge lemons and the
limoncello
, a lemon liqueur.
The Apennine spur
stretching between Positano and Salerno gives rise to a very jagged coastline which does not allow for the construction of large towns. Only at the end of certain ravines do the cliffs taper off and form beaches. Despite
the ruggednes of this landscape
, traces of prehistoric settlements do exist. The archeologicals finds in the upper strata of the grotto at La Porta near Positano date back in to the Mesolithic age (8500 year ago).
Positano
Positano town is spread out over one of the slopes of Mount Comune, softening its craggy outline. A single road via Pasitea, winds its way from the Town Hall to the Piazzetta dei ulini and at the junction of the road to Amalfi, continuing uphill, it turns into via Cristoforo Colombo. Looking down at the town from above, the eye becomes enchanted by an intricate network of narrowpicturesque steps, which create the impression of Nativity crib.
The long isolation of Amalfi
.. which until the last century could only be reached by sea , has meant that numeruos traditions have stood the rest of time. This is evident in the field of
architecture
where the moast characteristic feature is the vaulted roof structure. However, those against it point out that there was no need to wait for the expansion of the Arab world to learn a technique which had already been widely consolidated inthe western Roman tradition:given the lack of suitable material on the
Amalfi Coast
to make tiles and weathering material for roofs, it had simply become a necessity.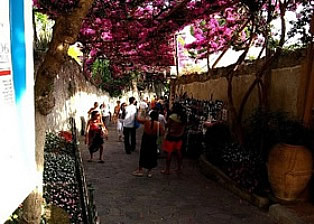 Fishing villages of Amalfi Coast
Idyllic fishing villages filled with narrow, pebbled streets cling precariously to the spectacular cliffs of the Amalfi Coast in southern Italy.
Lemon and olive groves dot this impressive landscape, which proved popular with Greek gods, Roman emperors and, more recently, a host of writers, artists and musicians, including composer Richard Wagner and writers Graham Greene and Gore Vidal.
Legend of Amalfi
Legend says the name Amalfi comes from a nymph, whom the Greek hero Hercules loved. When she died, he buried her in the most beautiful place in the world and then named it for her.
Originally a Roman colony, Amalfi grew into a seafaring republic between the 9th and 11th centuries. Pirates and plague diminished the stature of Amalfi, which made a comeback, thanks to tourism, in the 19th century. Two of Italy's most amazing ancient ruins—Pompeii and Herculaneum—are a short train ride from Sorrento.