Pompeii is an ancient town near Naples in south of Italy. This town was totally destroyed by a Volcano from the nearby mountain Mt Vesuvius. The remains of this town are now excavated and preserved as an archaeological site. Its worth a visit to this ancient town and its beauty and planning is still visible through the rubble filled streets and broken houses and temples that surround it.

Where is Pompeii
As starting point and accommodation place of our Pompeii travel we had chosen small family hotel in Praiano town. Here we checked in in a small family hotel. From hotel balcony we enjoyed a graet view on Amalfi coast. It was in the beginning of July. At this time the coast was pretty empty and almost without tourists. We stayed a couple of days for sightseeing and to admire Pompeii and Amalfi Coast. Idea for travel, It is important to have an idea and a desire to travel. Each new journey is different from the previous one. Sometimes we want to explore historical sites, next time you want just enjoy the peacefull of exotic lands. Hmmm, exotic food, unusual land different culture how but Vietnam? One of attraction of vietnam tours is definitely the terrace rice fields, with its shape, color contrasts and softnes of the hilly landscape of Vietnam. Yes, its just idea for the next travel..
Travel from Praiano town to Pompeii

We took a short travel trip from Praiano to Pompeii by car. We drove through narrow winding but picturesque road. Along the road we stopped by the native sellers to buy some food and drinks. They offerd traditional cold granita which is made from ice, lemon and fresh fruits from their own gardens. At the end of Amalfi peninsula lead a wide road to Pompeii. You must be careful travelin by car, because the traffic is pretty heavy. Almost everyone from teenagers to old people drive a motorcycle, motorbike or motorino.
When we arrived to Pompeii, the first thing we did was to follow sign for Pompeii ruins. To see Pompeii ruins you must pay a fee which was quite high - 11 euro per person, but it was worth the money. Also close to the ruins there are lot of places for parking.

Ancient Pompeii
Historical town Pompeii
was flourishing between year 700 BC and year 79 AD, until the eruption of volcano Vesuvio happened and the town was covered with ashes and rocks.
The ruins of the town
were almost 2000 years under ashes and rocks in good condition. Dry climate of Campagne and coat of ashes was protecting buildings and streets against erosion. Today we can see on 630.000 square meters whole streets and several buildings with mosaics and frescoes.
Excavation of Pompeii ruins
During excavation of old buildings foundations, archeologists found human bones with empty space around. They filled the space with plaster and removed ashes away. The plaster left the cast of human body or faces with pained grimaces died people.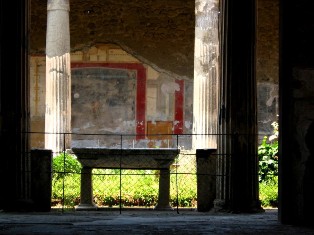 The catastrophe of Pompeii
Today tourists who are traveling to Pompeii ruins can admire ancient baths, bakery, fast food kitchens and public houses.
The inhabitants of historical town Pompeii knew very well what the entertainment, pleasure, leisure, debauchery, and money is. The portal on one of the houses has the inscription: »The profit is a luckiness« . .. it seems the inscription is also after 2000 years up to date .. History repeats itself