Sardinia is an Island in Mediterranean Sea and belongs to the Italy state. Its position between Italy, Africa, France and Spain is interesting because of fact that distance between Sardinia and Sicily is about 280 km but distance between Sardinia Africa, Italy or France amount only 180 km.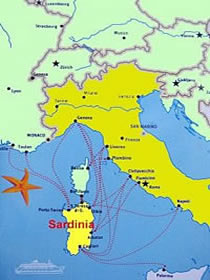 Sardinia Island in Mediterranean Sea

The flag of Sardinia - white background with four Moors wearing a white band on their forehead (once it used on their eyes) is ineteresting. Some experts suppose that it was born in 1096, when King Pietro I from Aragona won the fight of Alcoraz against the Saracens (muslim peoples).According to a legend, during the bloody fight a white dressed knight with a red cross on his chest appeared and repulsed the terrified Sarecens:only than they understood that the man was St. Giorgio, who left the cut off heads of the four defeated kings in the battlefield.
Sardinia is not for the faint-hearted. In summer, the heat can be blistering. Winter winds are some of the most vicious in the Mediterranean. Hotels and restaurants can be either outrageously expensive or dismally primitive. Public transportation is unreliable and moves at a snail's pace. Even getting to the island can be arduous, especially in summer when ferries and planes are packed. Sardinia is for adventurers, for those of us who like to feel we've accomplished something when we travel, those who want to push just a little bit farther than the crowd, those who are intrigued, not frightened, by civilizations that initially may seem inexplicable.
Sardinia's coast and beaches

Sardinia's beaches are realy beaches with big "B". It is not beaches only for jet setters and their yachts, there are miles and miles of coast with crystal clear sea.
The Sardinian sea is now rightly recognised as one of the most famous in the world for its unique environment, for its spectacular coast line and the thousand bays which constitute the main reason for those thinking of coming to the island.
With a little effort, an adventurous spirit and a few detours, you can find large stretches of beach that are often deserted and spend the day in seclusion with the sea and sky. Along its 1700 kilometers of shoreline there are some of most beautiful marine habitants.
Mountain landscapes of Sardinia
Nature lovers will find Sardinia the great place to discover rare flora and fauna in the mountains, caves and gorges. Sardinia has well marked routes that weave through inland valleys, mountains and along coast.
The commonest tree in Sardinia is the oak. Mainly there are three species: the holm oak, the common oak and the cork oak. The first is the most important; growing from the mountains down to the rockiest coasts.
The cork-oak woods stretch from Gallura to the northern Barbagia, and it was grown ) to harvest the precious cork, that is of great economic importance. In the intermediate area of the western Gannargentu and in a few other areas there is another typical forest production, that of the chestnut.
Inland of Sardinia
Sardinia is a land with an age old heart, dotted with thousands of Nuraghi and land with an ancient language. These round fortresses - Nuraghi built in pre historic times still survive as powerful symbols of the tenacity of sardinia and its people
At the beginning of life 'Nuraghe', around 1500 BC. the Mycenaean traders named the island Hiknusa. Another name was Sandaljon - "footprint legs", then it can be understood as a description of its design. Last name, Sardinia, is given by Sardi, pirates who attempted to take Egypt around 1180 BC. The most interesting archaeological sites in Sardinia, certainly fall within the period of culture Nurage. It is characterized by typical pointed towers in a cluster, built from large rectangular stone blocks. Usually they were placed on the places with a good view. Some are high more than 20 meters. The use and purpose of these buildings was not yet fully clarified. It may have been to religious temples, perhaps housing, cannons, heads of tribes, houses or rooms to meet the elders. Some buildings are in strategic locations to which they are able to control important transitions.