An amazing part of Cagliari is the beach of Poetto. It is easly reached by car or by buss and it is only a few minutes from the centre of Cagliari.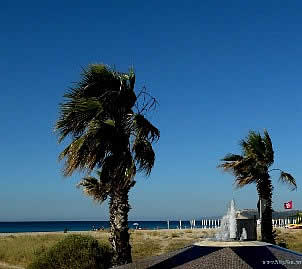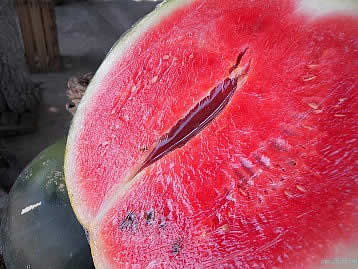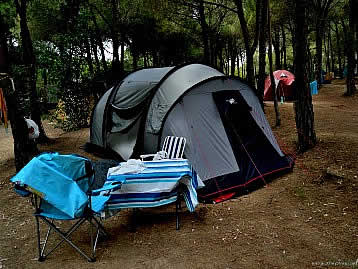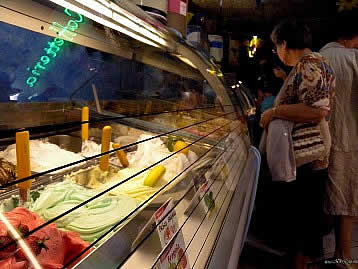 To the Poetto beach of Cagliari
Locals and holidays makers - both use this long and dazzlig beach between the pool of Molentargius famous for its flamingos and the sea. Having been exploited for a long time it is now being cleaned up. Behind Il Poetto, the salt water Stagno di Molentargius provides a habitat for flamingos.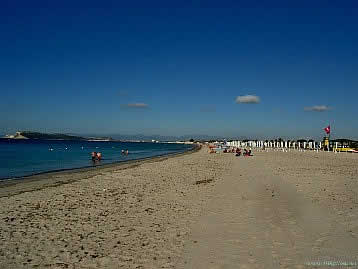 Main beach of Cagliari
Poetto
is Cagliari's main beach. It stretches for about eight kilometers, from Sella del Diavolo (the Devil's Saddle) up to the coastline of Quartu Sant'Elena. Poetto is also the name of the district located on the western stretch of the strip between the beach and Saline di Molentargius (Molentargius's Salt Mine).
Life on Poetto beach - Cagliari
Poetto - a town beach is known for its fine sand It stretches from the rock Siella del Diavolo (Devil's saddle) to the town of Quartu Sant'Elena (70.000 inhabitants).
The beach has become popular until the early 20th century, because citizens of Cagliari at that time were more oriented to the west side of the bay and beaches of Perdixedda and Giorgino. The Poetto beach name comes from the Catalan word pohuet, which means the source, and refers to many sources and reservoirs of water that are situated near promontory of Siella del Diavolo. Poetto is informally divided into ferme (station), on which stops the city buses that drive to downtown. The most popular part is the 1st station, next to Marina Piccola (Small Marina).
Poetto Beach has a good nightlife. Clubs and bars are working through all year, but they are especially attractive in summer nights with pleasant freshness of the sea air.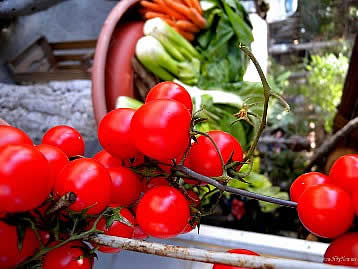 Restaurants in Cagliari
Restaurants in Cagliari Sardinia has few cities that have as many different restaurants as Cagliari, so you can eat different delicacies of Sardinia.
Porcheddu is the specialties of inside of Sardinia - it is pig on the spit accompanied with a local aromatic spice Mirto.
Culurgiones is the type of Raviola-filled with potatoes, sheep's cheese, white onions and mint.
Malloreddus is the gnocchi, which cooks al dente, stuffed with tomato and meat or cheese.
Stufato di capretto is a lamb meat with a artichokes, eggs and wine.