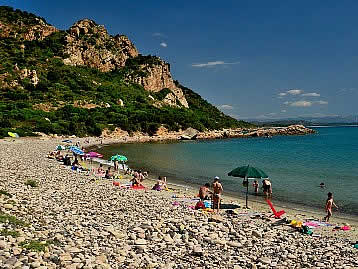 Where is Marina di Gairo - Sardinia
Marina di Gairo - Ogliastra, is about 16 km far from Barisado and about 25 km from Tortoli and Arbatax. Marina di Gairo itself is a little hidden village, positioned on the east coast of Sardinia.
The village is surrounded by some tourists resorts. Anyway the coastal landscape and its surrounding is well preserved.
Vacation on the beaches of Barisardo
The reason why Marina di Gario is so popular, is the fantastic environment that is embedded in it. You will find here a sea coast, which is reckoned to be the one of most beautiful in Sardinia. The most interesting thing along the Maria di Gairo coast are beaches with the red porphyry and some bizarrely-shaped rocks.
You can choose between middle turquoise Caribbean Sea, deep blue waters, snow-white sand beach, or even a black pebble beach.
Along the coast of Marina di Gairo the wind blows stronger. Definitely is coast of Marina di Gairo something that surfers fill with enthusiasm. With winds of up to 6 knots the places are perhaps not so much suitable for beginners.
Trip to the inland of Sardinia
A trip to the Inland of Sardinia is also very interesting. The coast along Marina di Gairo could be a starting point to the Su e accu Axina trip. From the mountains of Mount Ferru flows the source of "Su e accu Axina" that feeds the pools nestled among the rocks of red porphyry.
At the end of the waterfalls, you will find the small pool of water that have formed there. Bathing between bright red cliffs is fantastic.