The name of Mount Etna derived from the erroneous interpretation of the word "gebel" which in Arab language mean mountain. Etna is Sicily´s tallest peak and although capped with snow for much of the winter.
Mount Etna

Mt Etna is one of the Europ´s most famous volcanoes. Its actual height is changed with every eruption and stands at about 3350 m. Etna can be explored from southeren or northeren slopes. As the volcano is still active, the landscape on Etna is constantly changing.
Accommodation in Sicily offers an alternative to traditional hotel accommodation and a far more welcoming means of experiencing one of the most beautiful islands in the Mediterranean.

If you are planning a holidays to Sicily and a trip to one of the Sicilian seesights you need a place to stay. In Sicily on the coast or inland are a variety of budget hotels, luxurious accommodations or suit for all kind of travellers requirements.


Sicily is also great destination for your family holiday. There are a vaste range of activities, cultures and gastronomic events for your family on a holiday in Sicily.Your family can enjoy on beaches with gently shelving sand and an exciting range of places to visit such as famous beach San Vito Lo Capo , temples of Agrigento or picturesque coast of western Sicily. The island boasts good restaurants, some nice hotels, incredible history and pleasant beaches. Land in either Palermo or Catania, rent a car and hit the hot spots, which include Agrigento, Syracusa, Taormina
Ascent to the summit of mt Etna

Zafferana Etnea
is a good origin for trips. The best time of the year for hiking on Etna is high summer. Whether condition depends from low or high altitude. It is important to remember that temperatures can plummet here, therefore is advisable to carry a thick sweater, a wind cheater and appropriate footwear.
From Zafferana Etnea two beutiful roads wind their way up to Rifugio Sapienza at 1910 m. Here is the starting point for all traveleres and hikers. The rout lieds through a strangely unnerving landscape, dominated by black lava and relieved occasionally by a white patch of snow or pink and yelow bursts of flower in spring.
The ascent up to 1923 m can be made by cable car from Rifugio Sapienza then you can continue trip on foot (two hour) or by truck with a guide to the summit. From the 2700 m the ascent is by foot, although for safety reasons visitors are strongly advised to keep away from central vent.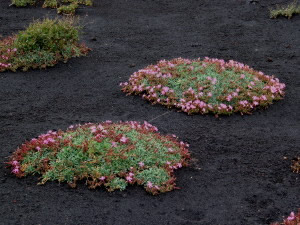 Walk under the cold lava flow
In this part of Sicily is never quite clear weather. Always is there bubble of smoke waves from Etna. The last eruption was in 2002. Indeed there lies a cold but fresh lava, which you can pick as you want. All around lies only black volcano lava. Walking through the cold lava seems like a walk through the pile of coal. Interesting ...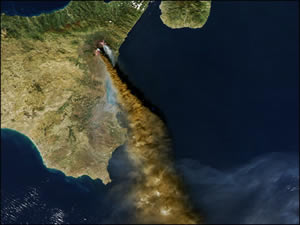 Eruption in year 2002 Etna volcano

.from news.. Volcano Etna above the Catania town in Sicily is still spits lava. At night, several earthquakes again shook the area at the foot of the volcano. At the night, several earthquakes again shook the area at the foot of the volcano. Above the volcano floated a huge cloud of ash. Buildings, streets and cars are coverd by dark dust. Etna eruption began again on Monday morning. On almost 3400 meters high volcanic mountain has opened another small crater. From it start lava and ash vomitng around 200 meters high. After a year of break, Etna erupted again due to a series of more than 200 earthquakes. A giant cloud of ash was also photographed from NASA Terra satellite.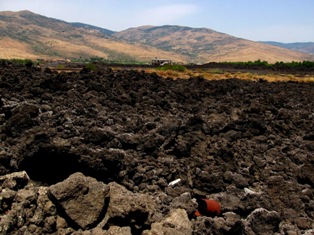 The authorities have already created the crisis unit. Due to major outbreaks of Etna in July 2001, the strong flow of lava threats for several weeks the number of villages around the volcano. Italian rescuers are, in order to block the river of lava, dug many ditches. They includes also fire-fighting airplane. The authorities closed the scools in most threated cities. Lava has flowed in three streams through the slopes and demolishing a house, ski lift and more trees and low vegetation. There was not injured. Before this outbreak, the Etna lava vomited in 1992.