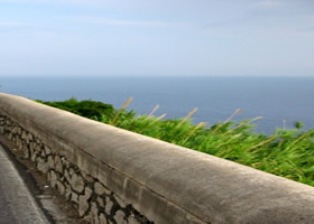 In May the average maximum daytime temperature in Amalfi is a comfortable 20°C (69°F), while the average minimum night-time temperature is a cool 12°C (53°F). On average 40 mm (1.6 inches) of rainfall is expected in Amalfi during May with rain generally falling on 10 days of the month.
There are usually 8 hours of bright sunshine each day, which represents 54% of daylight hours. During May around midday under clear sky conditions the UV Index in Amalfi is Very High (UV Index 8). Average sea temperature around Amalfi in May is a cold 18°C (65°F). Weather in Amalfi coast is wonderful year round execpt in winter months. Take your umbrella on your holidays if you plan to visit Amalfi Coast in winter or autumn months. Best time to visit Amalfi coast are spring and early autumn.

Cliffs of Amalfi coast
The inhospitable cliffs and craggy rocks have allowed the Amalfi Coast to maintain most of the impressive yet charming beauty that began to attract hoards of visitors from throughout the world at the beginning of the nineteenth century for its mild climate, suggestive sense of isolation, fascinating landscape and ancient memories.
The Amalfi Coast and in particular its most renowned centres such as Ravello, Amalfi, Positano, Praiano are ideal destinations to realize unique stays with the Amalfi Coast's wonders. To own a property in Amalfi Coast it means to have the privilege to enjoy, for an unlimited time. Everything usually can be enjoyed for a short time, unrivalled overviews, made of sky, sea, sun, and a typical Mediterranean vegetation dropping into the sea, mild climate and healthy air rich in sea salt, tranquillity sites, religious and folk traditions of inestimable value.
The long isolation of Amalfi
Places like Atrani, Postiano, Amalfi Coast look fabulously beautiful! I really can not imagine a more romantic getaway. Postiano is a picturesque fishing village where tourism rules. It has been highlighted in films like "Under the Tuscan Sun".

The Amalfi Coast offers all this and much more. We must not forget that the Amalfi Coast is a land rich in history and therefore of historical and monumental sites of great importance, famous culinary traditions well known in all the world, such as the fish dishes, the "scialatielli", the "limoncello", the lemon delight cake, the infusion of herbs known as "Concerto" and the endless dishes that distinguish each country of the Amalfi Coast